In today's digital world, where our attention span is getting shorter by the day, making a good first impression is crucial. The saying "You eat with your eyes first" is especially true when scrolling through your phone, deciding what to order.
And Swiggy's Photoshoot feature is here to solve just this & make your restaurant menus look absolutely stunning! With this feature, you can capture and upload high-quality menu images using just your smartphone and the Swiggy Owner app.
Why You Need Good Menu Images
If a picture is worth a thousand words, a mouthwatering image of a pizza or a delicious dessert is worth a thousand orders. Delicious food photos help customers imagine how dishes are, especially if they're new to a restaurant or trying an unfamiliar dish. This way, customers have a clear idea of what to expect, making their ordering decision easier and creating a good food experience.
A Game-Changing AI-Powered Menu Makeover
In an industry-first move, we are utilizing AI to validate, enhance, and perfect restaurant menu images.
Here's how AI helps power this new feature:
AI-Powered Image Validation – AI instantly validates images in no time, ensuring they meet guidelines and nudges you towards picture-perfect results, reducing image rejections later.
AI Image Enhancement – AI enhances the image quality, aesthetics, and even lets you choose the background of the food image from a set of options.
The above two apply to both images clicked in real-time as well as existing images uploaded by the partners from their mobile phones.
"High-quality food photos are essential for creating a profitable menu. They assist customers in making informed choices and improve their overall ordering experience. Swiggy's 'AI-enabled Photoshoot Feature' simplifies the process, eliminating the need for costly photographers. We hope restaurant partners and owners will take full advantage of this offering."
-Rohit Kapoor, CEO – Food Marketplace
Let's take a look at the other exciting benefits of this feature:
Speedy Results: Your freshly clicked images will be live on Swiggy in just a few hours
More Orders: High-quality images of your dishes can lead to up to 5x more orders
No Extra Expenses: Your smartphone is your tool to capture stunning food images, enabling you to save money on photoshoots!
Transforming Menu Images: Before and After Using the Photoshoot Feature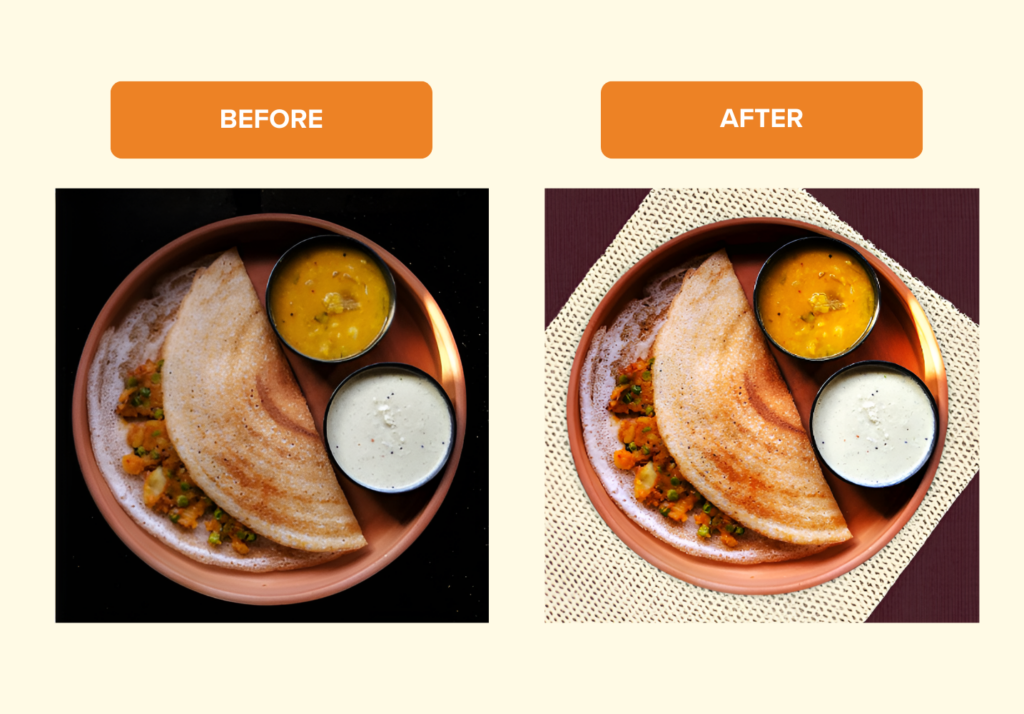 How Does It Work?
To start using the Photoshoot feature, all you need is the Swiggy Owner app on your mobile phone. Go to the 'Your Menu' section and just choose the item for which you want to add an image, as shown below.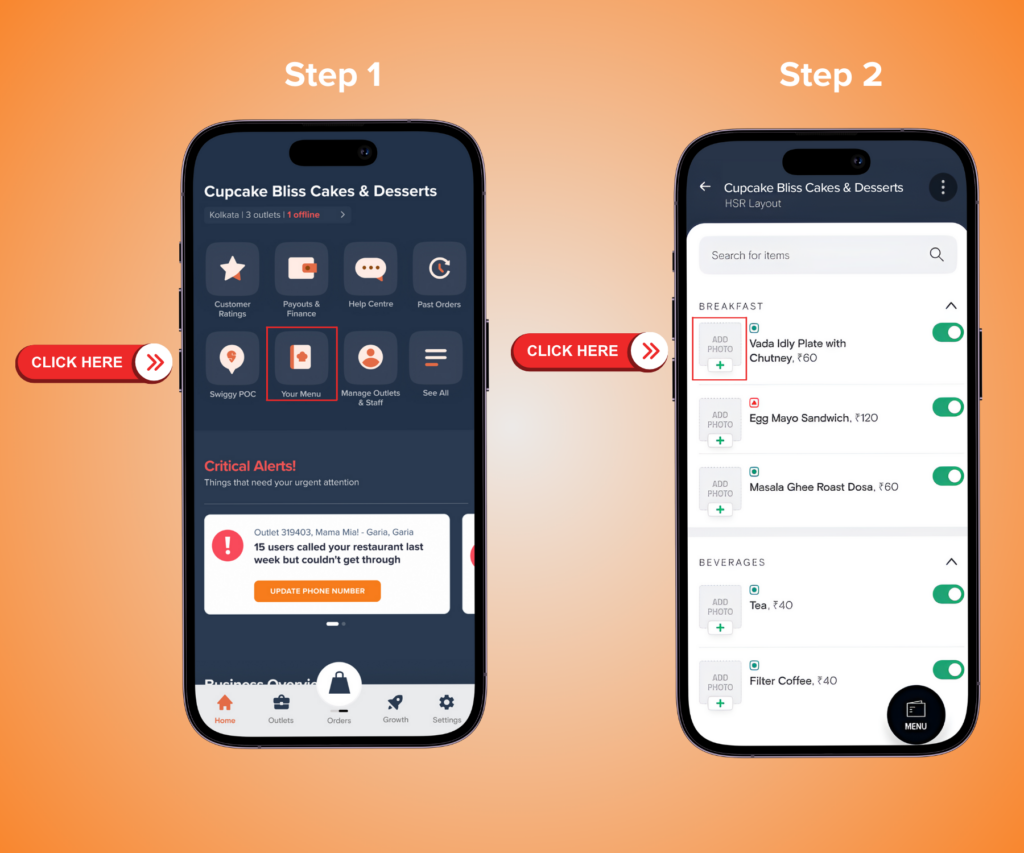 You can also go through the tutorial video to learn how to use this feature.
Success Stories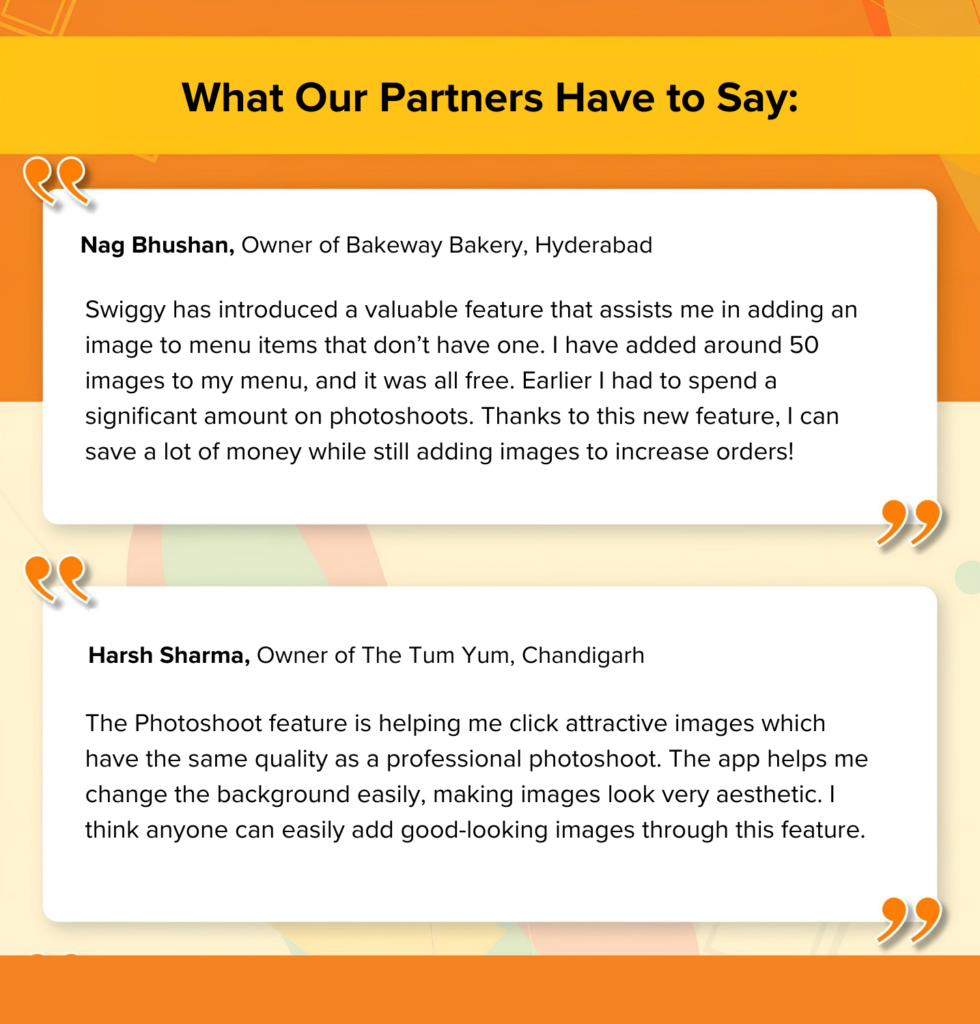 Within just one month of its release, approximately 10,000 restaurants have already used this feature. With the ability to capture and upload stunning menu images for free, you too can now attract more customers, and watch your orders take off!

For further information about this feature or if you have any questions, kindly send an email to partnersupport@swiggy.in with the subject line "Photoshoot Feature."