As the vibe of festivity can be felt all around, it is the time of the year when the festive fervour fills the soul with the hope of prosperity and happiness all around. From the extravagantly lit-up streets to tiny fairy lights winning everyone's hearts to the captivating aroma of desi ghee laddoos and sweets of all kinds, the preparation for the biggest festival of the year has only started.
As you embark on the festive season of the year, it is impossible to think of the festival of harmony, lights, and happiness without indulging in some of the most delicious sweets and snacks that are a quintessential part of the traditional culture. Let us help you know about some of the most delicious and mouth-watering Deepavali snacks you must have this year.
What are the Most Famous Deepavali Sweets and Snacks?
As far as celebrating the grandeur of the Festival of Lights is concerned, our minds instantly conjure up vibes of delectable delights. The happy-to-go occasion is recognised for its colourful confectionaries that are consumed during gatherings and celebration, each boasting a unique and delectable flavour. While different food types might vary based on regions, there are some must-have Deepavali snacks you should not miss out on.
The divine combination of delectable sweets and fried snacks is capable of winning hearts during the auspicious occasion of Diwali. Food plays a vital role during Diwali celebrations. If you are inviting guests or giving someone a special gift, here are some of the delectable Deepavali snacks you can order online from Swiggy:
1. Samosa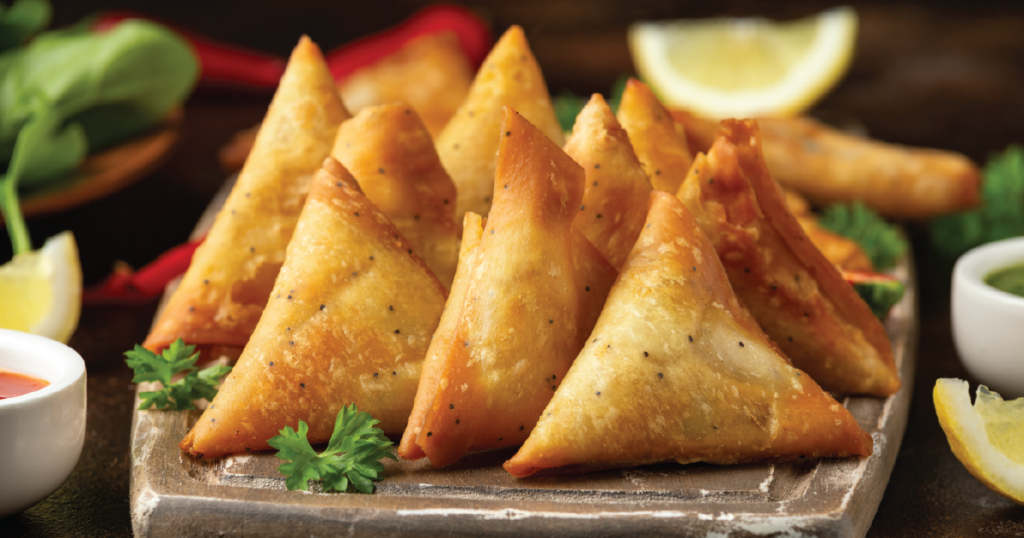 A spicy and crispy samosa is something you cannot say no to, especially on an enjoyable occasion like Diwali. It can serve as the perfect snack this Diwali, both for your family and guests. If you are hosting a small Diwali party at your place, you can order crispy, fresh samosas online from Swiggy. Within a few minutes, you can get doorstep delivery of the favourite flavour of this delectable snack.
2. Aloo Bonda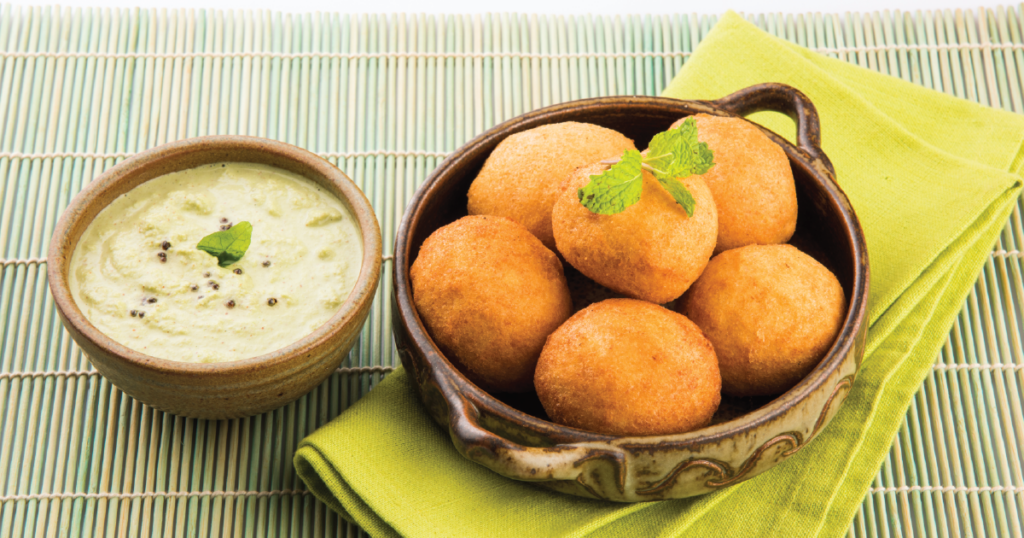 This famous streetside delicacy from South India is quite prevalent across the nation. The rich flavours and divine texture of the dish will indeed tantalise your taste buds. The scrumptious potato filling inside the golden-brown crispy coating of besan or gram flour batter make this recipe a must-try during the festivities. From a small get-together to a large party, do not miss out on this delicious snack on the eve of Diwali.
3. Murukku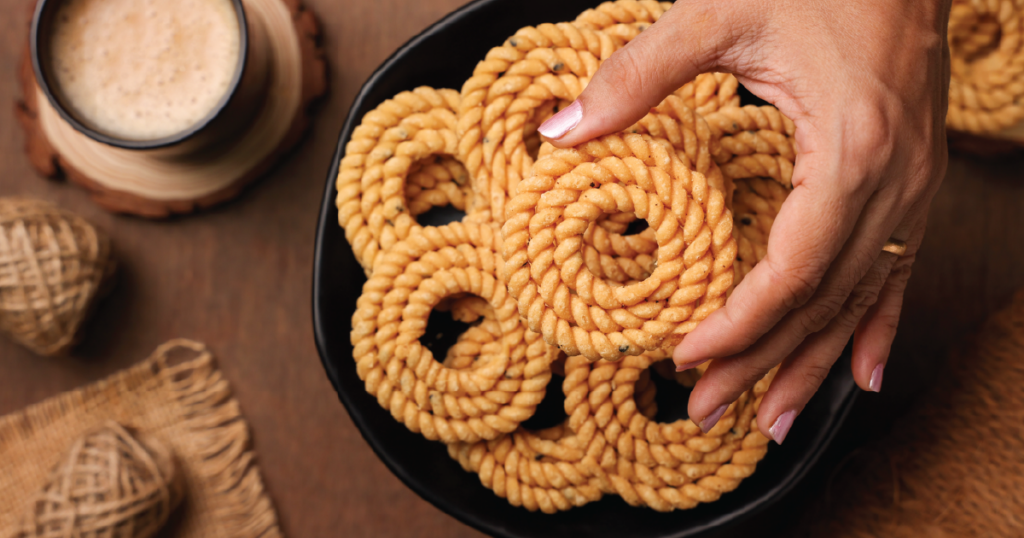 It is a famous South Indian snack. Additionally, it is gaining popularity across North India as well. The delicious snack is prepared with the goodness of rice flour and other rich ingredients. In the northern parts of the nation, this snack is also known as Chakkli. You can order this dish online from leading sweet shops or eateries in your city. The snack features an impressive shelf life and can be consumed through the festive season. Try it with your loved ones during tea time!
4. Paneer Tikka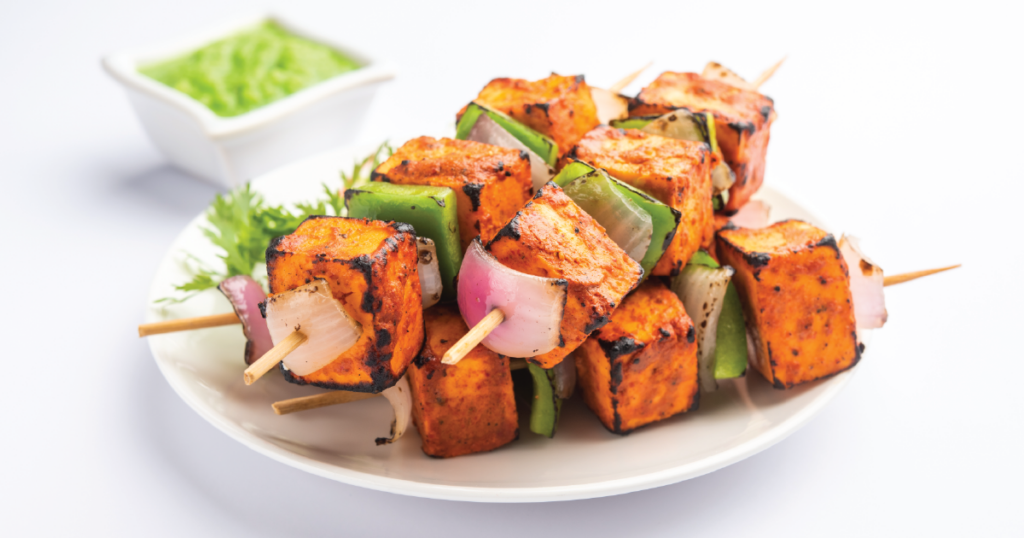 Craving for something flavourful and delicious? If you are looking for a fulfilling snack option, a plate of Paneer Tikka is a must-order item during Diwali celebrations. Everyone loves the divine flavours of Paneer Tikka as they serve as the perfect appetiser for all occasions. The spicy flavours on top of tender, delicious paneer cubes will indeed elevate your taste buds. Try this delectable snack item this Diwali along with a hint of spicy mint chutney to enhance the overall experience.
5. Namakpare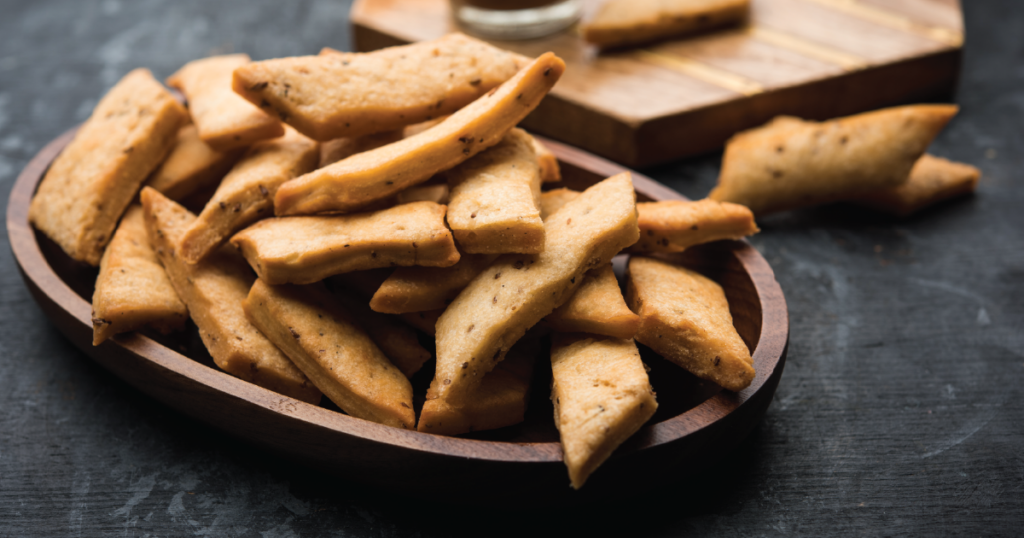 Looking for a perfect tea-time snack option? You have Namakpare to your rescue! If you are not fond of sweets too much, you can try out this light yet flavourful snack item that is a must-have during the festive season. The crunchy, savoury snack is perfect for balancing your taste. You can easily order this dish online from Swiggy and get doorstep delivery in no time to serve your guests during the festivity.
6. Vadai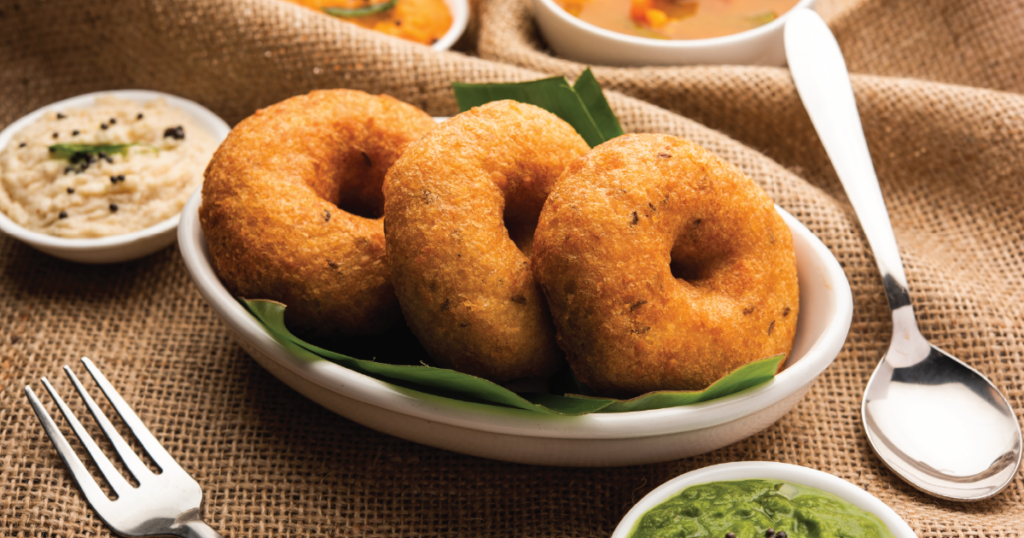 It is available as a delicious doughy snack item that is immensely flavourful due to the tantalising combination of chopped onions, dal lentil batter, curry leaves, and red chillies. If you are looking forward to impressing your guests with something delicious and fulfilling at the same time, this mouth-watering snack is your go-to option. A good, fresh Vadai is always soft and fluffy on the inside while boasting a golden-brown, crispy exterior.
7. Aloo Tikki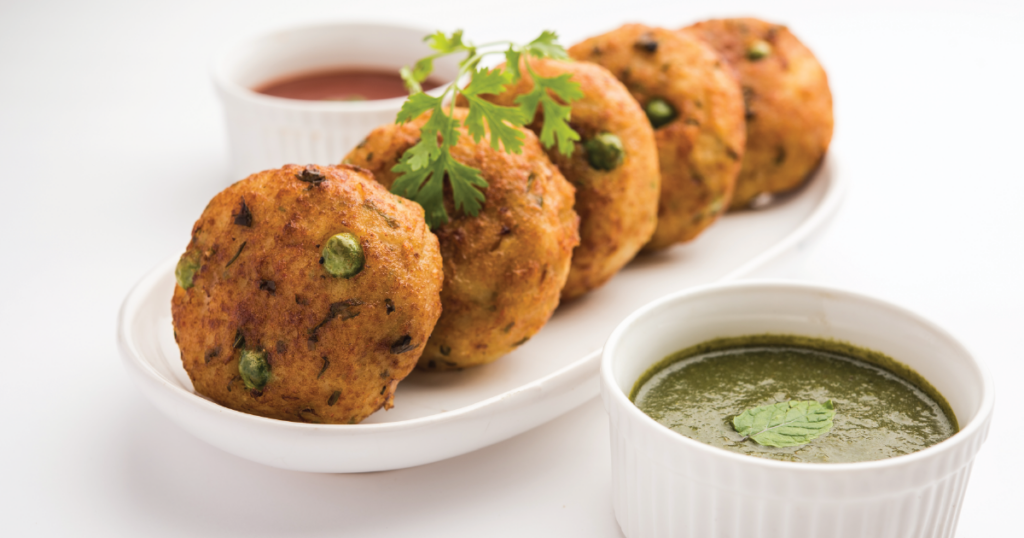 Aloo Tikki is available as delicious, spicy cakes made out of fried potatoes. You can order a plate of hot Aloo Tikki and serve the same with an assortment of delicious chutneys like mint chutney. Aloo Tikki is prepared by mixing boiled potatoes with the goodness of chickpeas, sauces, and spices. This makes the appetizer a great option for a small group during your Diwali celebrations.
8. Dahi Batata Puri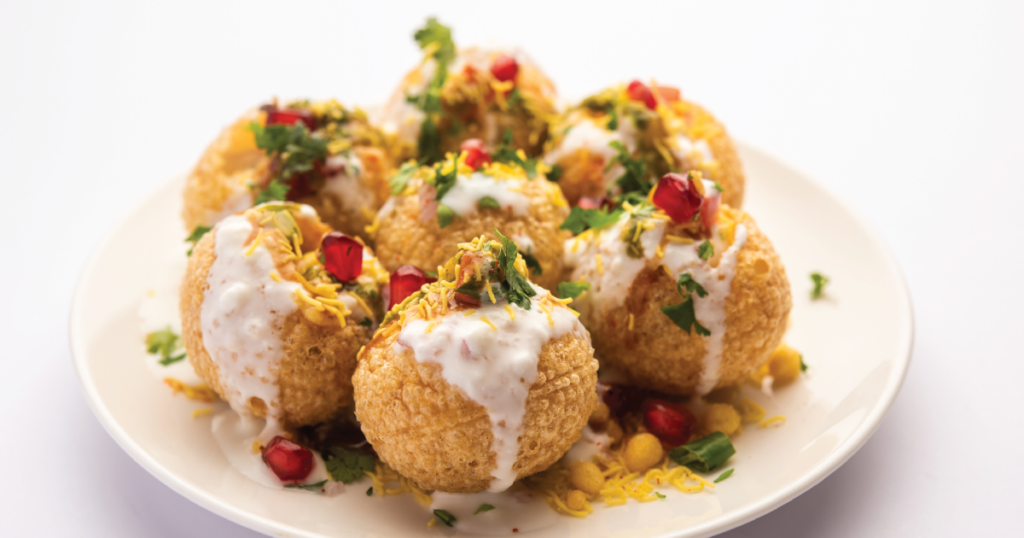 Chaat serves to be an all-encompassing snack item across India. This must-have chaat dish from the traditional platter of India is a divine combination of crispy, golden-brown shells with yogurt (dahi) and potatoes (batata). This rich platter is garnished with spicy and sweet sauces. You can order a plate of delectable Dahi Batata Puri from your favourite eatery.
9. Gulab Jamun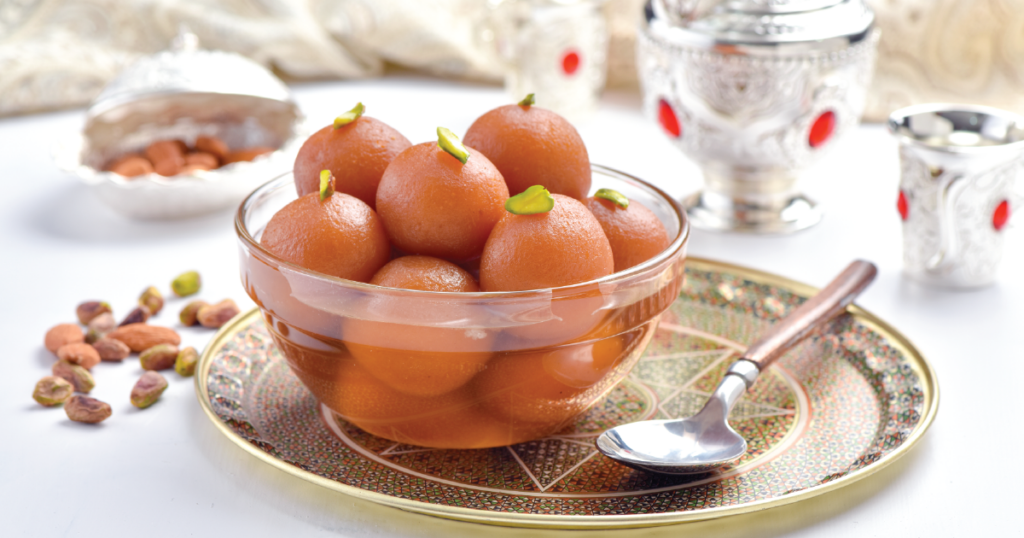 One of the most beloved Indian sweets of all occasions is the Gulab Jamun. These are syrup-soaked balls prepared out of flour and milk. The presence of rosewater-scented syrup permeates the soft, spongy balls, which for the uninitiated can be referred to as sweet doughnut. The bonus point is that you can order them a day before serving and they still remain fresh throughout.
Conclusion
With a myriad of options to try out in India for special occasions and festivals like Diwali, make this Diwali more auspicious by ordering snacks and sweets online from Swiggy. This way, you can remain hassle-free to enjoy the festivity without any stress. With the option of doorstep delivery, you can be a part of the celebration all-day long as you become the perfect host to your guests.

Satisfying your cravings, one bite at a time. Discover the best eats, trends, and uncover the hidden gems with us to make your online ordering or dining experience a memorable one.