Swiggy's Head HR, Girish Menon speaks about the company's Future of Work Mandates and why Swiggy is a great place to work at.
________________________________________________________
If you want to gauge how good a company is, look at how the employees are being treated. What kind of benefits are being offered, are employees being enabled to put their best foot forward, and are they being heard when it comes to their feedback and experiences.
Putting its employees-first comes naturally to Swiggy, whether it's the Future of Work policies, ESOPs liquidity and Build Your Own Dollar programmes, the company is loud and clear about their priorities.
Girish Menon,Head HR at Swiggy, walks us through what went into the future of work mandates, the lessons they learnt while scaling the company, how they chose to make sure their employees are happy and heard and why you should work for Swiggy if you already haven't thought of it.
Excerpts from the interview.
You've had a long journey with Swiggy. Take us back to that time and tell us about the anecdotes and struggles.
I have seen four different phases of Swiggy. The first was "who is Swiggy", people didn't know about the company when I joined. Then a phase of survival that lasted for a couple of years. Third was when people said, "I don't mind having coffee with Swiggy" and that's when people started noticing us. The fourth was when people wanted to work with Swiggy. It's been a crazy ride. All these phases have required different sets of activities that we had to carry out. But one thing which has been constant, is that we have always been an employee-first and a values-driven company.
Over the last two years, the pandemic has dictated and affected the ways of working. In connection to that, Swiggy recently introduced three future of work mandates. Walk us through them.
In the 2000s – Y2K and the dot com boom happened, that's when the whole sector started looking at remote work differently. But I don't think there were many companies that embraced it, until Covid-19 happened and forced us to get into a remote work scenario. We were one of the first companies to go remote-first because we are employee-first. We also realised that we already had a few basic necessities to have remote work in place. For example, the IT infrastructure. We had a strong culture of trust and autonomy in place. We had already invested in managerial capability of managing people with respect and like an adult right. Even when we were in office we never had a punch-in, punch-out system. We had trust and that made it easy for us to transition from a physical world to a remote world.
When we started working that's when we started thinking about what the future at work will look like. One thing was clear, it was not gonna be one stroke for all. In that endeavour we started talking to people, we surveyed more than 1,500 employees, understood their perception and preferences about what the world should look like, and came back with a workstream.
Second, it had to be relevant. We weren't doing anything to be sensational. We wanted to do something which is employee-first and has to be relevant for business. The result was three mandates. Mandate 1 is where people work two to three days a week from the office and the rest of the week, they can work from anywhere. This is largely for roles which are on the field or partner facing. Mandate 2 is where people come to the office 10 to 12 days in a quarter, and this is more around the corporate team, the tech & business folks, in the central functions. And finally, Mandate 3, where people come to the office daily because they are working in the field like fleet managers.
How has productivity been affected once the future of work policies came into place?
People are used to seeing others physically everyday and they have better control if people are in office. So it is a mindset issue. The underlying trust that we had as a culture is something that helped us in deciding the future of work mandates. You'll be glad to know that one of the largest businesses which is growing now, Instamart, boomed remotely. All of the teams worked remotely to make this happen. So magic did happen when people were working from wherever they were. So there is no particular reason why work will happen only in the office, as long as you trust people.
Working from anywhere has its perks, but how can we make that experience completely seamless for our employees?
The first would be well-being. So we have a program called Built Around You, which we launched a few years back, it focuses on physical, mental, financial and legal wellness. The whole mental wellness and general development becomes very important in the remote world, because in the physical world we tend to see people on a daily basis so we get a sense of what's happening. We are focusing on the wellness aspect, that's number one. Secondly we are focusing on 3Bs – Bonding, Building and Believing. Those are areas we are working on. HRBPs work with the business folks to really understand the people on the ground.
Third aspect is when you are working remotely, there's also a chance of knowledge asymmetry. How do you transfer knowledge from one pocket to another, that's the third aspect we are working on. Fourth is in general the ability to be more inclusive because when you are remote first, people are working from anywhere, people are also working from the office. So, you don't want anyone to feel one is better than the other right.
Swiggy has launched the ESOPs liquidity program and the BYOD (build your own dollar) program. Tell us a little about that.
We have already done two rounds of liquidity. But what was not there in the market was the predictability towards liquidity. That's something we wanted to build so people can plan their finances, investments, if they want to participate in it. This is something that we thought about last year and worked with the board and now there are two rounds of liquidity happening as you know. So there will be close to 1,000 people this year participating, close to 1,000 people participating next year. We truly believe that employees should partake in our growth journey. Right, so I am glad there is wealth opportunity, wealth creating opportunity that we have and it's more predictable and people can look forward and plan their lives better. On the BYOD bit, it was important because we give ESOPs for junior middle management and above in the company. So there was feedback that people wanted to be a part of the growth story via the equity vehicle and we wanted to allow people to participate in it so we opened it. Employees can also invest a part of their salary into owning ESOPs at Swiggy.
Swiggy concluded its first jamboree. How was your experience?
It was phenomenal! We are super glad that we pulled it off and almost 2,000 people came into office. There was extremely high energy, there were also fun meetings happening with people just bonding. I think that whole social element, the touch and feel, knowing a person in 3D than in video, I think those were the aspects which were very useful. I think in this whole remote first world, this jamboree is a very essential aspect to make remote first successful.
The great resignation has been around for a while now. Companies are doing whatever they can to retain employees and to keep that talent. What is Swiggy doing to retain its talent and help them grow better?
We weren't impacted by great resignation as much. Frankly, our attrition has been better than last year in many pockets. The great resignation just created a hype in people's minds and they just left for better perks. I believe that even when people leave for an offer they do come back to the company for culture and there are a lot of people who come back to Swiggy. Having said that, on the development side we have always been investing in people. For example, we had this whole leadership development journey which happened. We launched our learning wallet last year where people can own their learning. They can buy any course, they can join any universities, and do certain courses again. That's something we launched and we have now expanded that from learning wallet to learning and development wallet where even physical wellness is a part of it. There's a lot of skill development work which is happening across the functional side whether it is the operations unit, which is the supply unit. We launched a tap program which enables people to grow in a meaningful manner.
How has this hybrid form of work been for you? Are there some things that you weren't able to do before but now you can?
Its been great. For one, it saves three hours of commute for me, so I think more than the FOMO which is fear of missing out, there is a JOMO, the joy of missing out on traffic. So clearly it's JOMO greater than FOMO with this.
I know of people who stay with parents, spending time there. I know of people who do certain courses which they couldn't have done in the physical world. I know people taking care of their babies, new born babies because they have extended time at home. All of this happening with them being productive right, so I think it's a great win-win for Swiggsters and Swiggy.
That's how I look at it. For instance, thanks to remote first, I worked out of a small village in Kerala, in terrains of Kerala which I have never done before so almost half a month I could work out of there. That was a great experience living and working out of a village, so it's a pleasant memory I have.
So Swiggy celebrates its eighth anniversary this year. Some great memories, some lessons learnt. Tell us about them both.
Lessons learnt: There has never been a single year where we could tell that we have arrived. There's been a constant need to learn, to improve ourselves, and to think what's right for customers. The biggest lesson is that this is a journey and we can't be complacent. There are a lot of good memories. The first time we did 300k orders, great memory. Also, the fact that we were able to meaningfully deploy so many lakhs of delivery partners and impact livelihoods, that's a great memory too. Another was the support that we could give to small restaurant partners especially during this time of the pandemic, I think there's a large impact that we created from a business to the larger ecosystem.
Why did you want to join Swiggy, especially at a time when it was new and people barely knew it?
I wanted to be in a place where I could create a large impact, and when I chatted with Harsha and the founding team, I found them very humble and open. Also, I joined the organisation at a time when I could create that impact for myself and the organisation.
What's that one message that you would give to the employees of Swiggy and to people looking to work with Swiggy.
Here's my advice, take your work seriously, don't take yourself too seriously. For people who join Swiggy, I would say come join us for a great culture, great colleagues and you know great products that we are building. You will definitely enjoy working with us.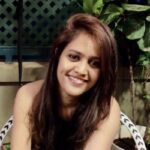 Priyanka Praveen leads content for Swiggy's Employer and Talent Branding team. She comes with 11 years of writing experience having worked for Indian and International news organisations. She loves story-telling, is an avid embroidery artist and a wannabe baker.