Siva Kumar talks about how one bus journey to Bangalore changed his entire life as he began a new chapter with Swiggy.
________________________________________________________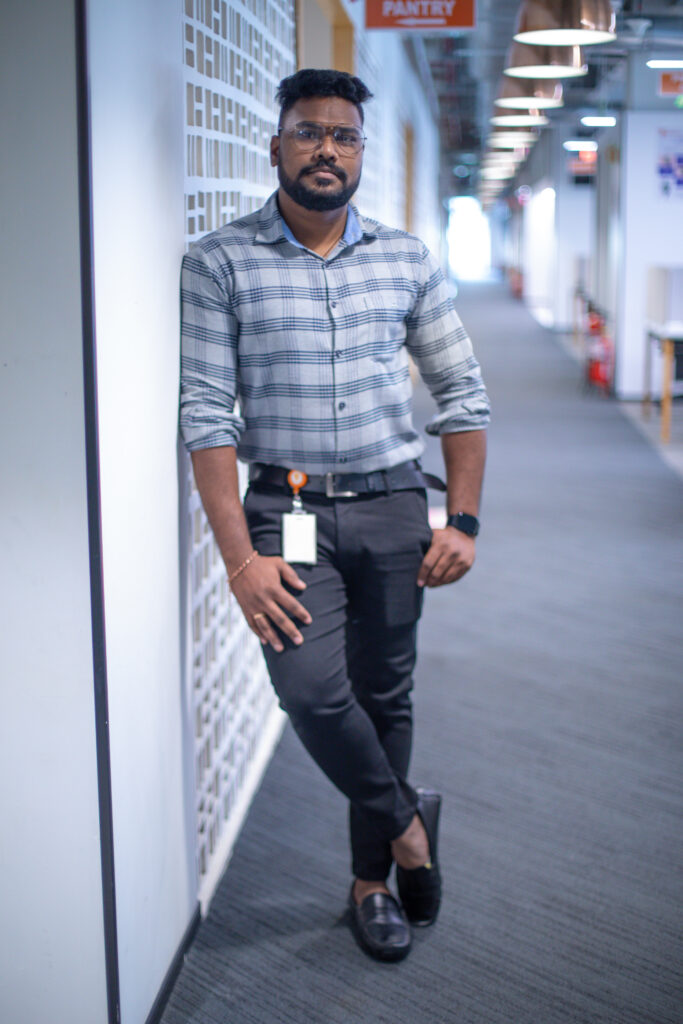 If you're a Swiggy employee who's been to the company's office, chances are you either know or have seen Siva Kumar. Usually found running around the office or at his desk near the reception, Siva went from a security guard at Swiggy in 2018 to an admin executive today.
This is his story.
Born and raised in a Thimmapuram Village in Andhra Pradesh, Siva graduated from college in 2016. After a few jobs and several attempts to join the Army, he took up "whatever job came his way". "I didn't know what I could do in my village, as job opportunities come by very slowly. It was a difficult time," says Siva who is always on his toes at the office.
Despite getting several certificates in NCC, he wasn't able to join the armed forces, something he cherished dearly. "I then started working as a maintenance manager in my village, but they didn't pay me on time, so I quit. It was then that things changed for me," he says.
Siva never planned on moving to Bangalore, but it was his best friend who pushed him to apply for the role of a security guard at Swiggy. "I didn't want to leave my father, who is paralysed, but my best friend, Pavan Kumar bought me a ticket and made sure I reached Bangalore," he adds.
According to Siva, it was the best thing that happened to him. In 2018, he started working as a security guard with Swiggy, 3 months later he got promoted to the role of supervisor. And in November2021, he joined Swiggy as an admin executive.
"I've seen people treat security guards with so much disdain and I assumed it's common everywhere. But when I started working with Swiggy, I was proven wrong. Everyone treated me with respect. Often people tend to forget that security guards are human too, but that never happened with me even once at Swiggy," he recalls.
Currently, Siva has his hands full. His work requires him to come in during the week. So how did he end up in his current position? "I was always ready to help people out. Even as a security guard I was keen to do and learn more. So I would volunteer to help out with other projects as well, which is what got the attention of my manager Surendhar," says Siva who handles the facilities duties, including security, housekeeping staff and more.
Among the several thousand employees, Siva is one who absolutely stands by Swiggy. He says, "Do you know what's the best thing about working with Swiggy? There is absolutely no hierarchy here. You're respected as a human being and no one treats you differently. Right from my manager Surendhar Kumar who treats me like his brother, to the VPs and founders they are all very humble."
Recalling one such recent incident that left him very happy, Siva says. "I had gone to Girish Menon's home to deliver a few papers. He was at a work meeting and thanked me for the papers. Later that evening, I was surprised to receive a msg from him. In it, he thanked me once again and apologised that he wasn't able to speak to me because he was in a meeting. He didn't have to do that. He could've just let it be, but he took time out and messaged me. That meant a lot to me."
Siva's work has impressed many at Swiggy. Speaking about why he chose Siva for the role,
Surendhar Kumar K., regional administration head at Swiggy and his manager says, "The time and effort Siva puts into work remains unmatched. He asks if he can help with things outside his responsibilities. He is the best example of the Swiggy value, "Always be curious, always be learning."
Siva is able to take good care of his family now. He says, "My father is so proud of me. He knows I have this job with Swiggy and I'm able to provide my family with a good life, something that wouldn't have been possible if I didn't take that bus out of Andhra Pradesh."