Delivering food and groceries across India on New Year's eve — Swiggy's busiest day — was no easy feat. Here's a look behind the scenes on how Swiggsters made this happen.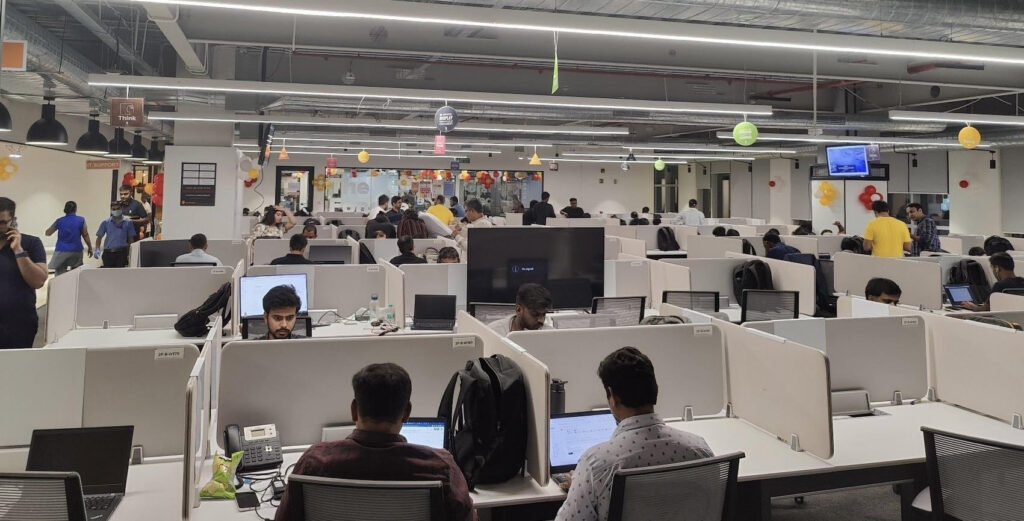 What does it take to deliver our highest orders on one of Swiggy's busiest days of the year? The answer is simple: Over 400 employees backed by over 3 lakh delivery executives who came together to make sure Swiggy's customers in 540 cities and 1,151 zones received unparalleled convenience on 31 December 2022.
As people across the globe were getting ready to welcome the New Year, Swiggy was making sure India actually got to enjoy the celebrations. As the tech park in Bangalore was mostly silent, there was a totally different kind of party that was taking place on the second floor of Swiggy's office.
Huge screens were up, leadership was seen running from team to team to make sure that they received all the support they needed, employees were crunching numbers, and there was a continuous supply of food and beverages to make sure that no one was left hungry.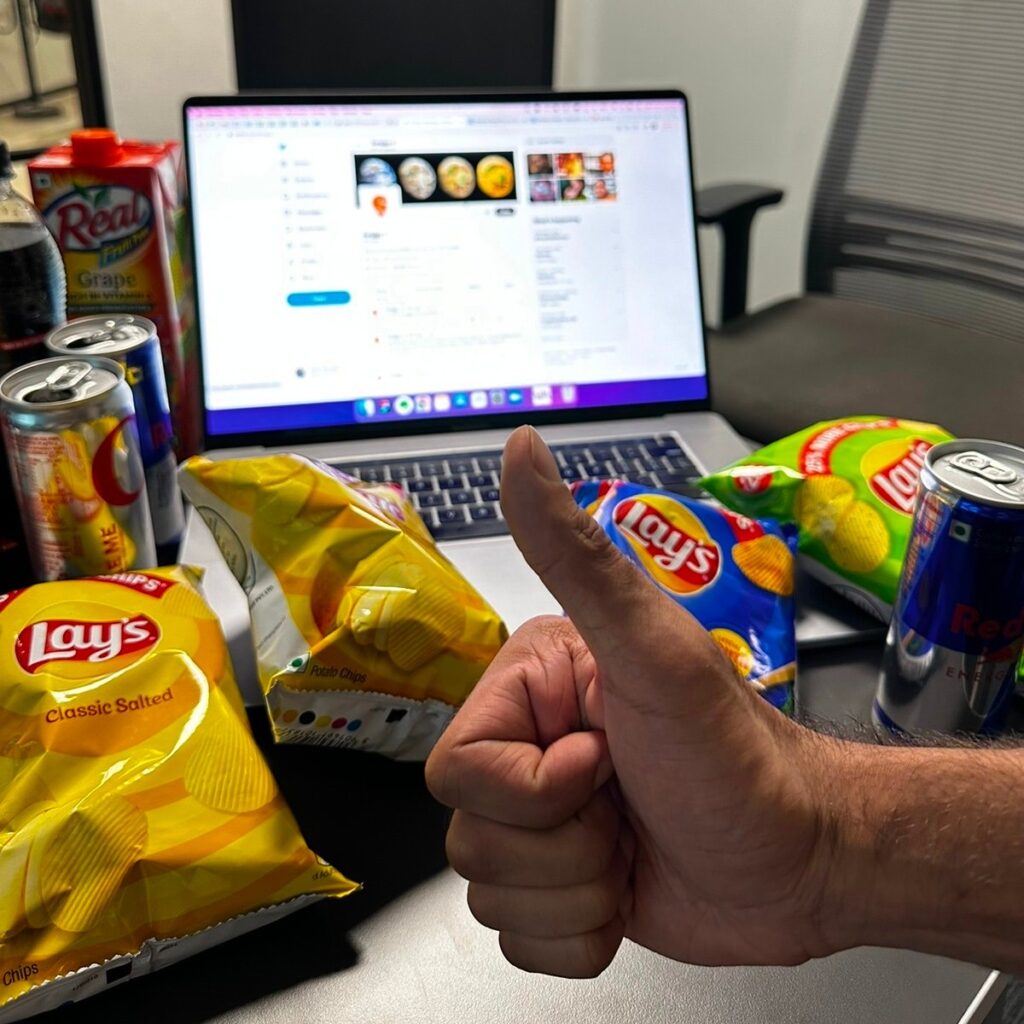 After all, attacking, unarguably the biggest day of Swiggy, required some of the fiercest champions on the field.

Here's all you need to know about what happened behind the scenes at the Swiggy War Room on 31 December, 2022, as the company readied itself to battle out its busiest day.
Sound the war horn, get the war room ready
You don't go to battle without prepping for it, and preparation for Swiggy's war room this year started 40 days prior to NYE. The year prior to this was a completely different war room, with COVID-19 taking precedence.
This year, with many more employees joining forces, setting up the war room took more planning. Speaking about 2022 and how the team made sure employees' comfort was taken care of, Swetha Dsouza, Director – HRBP says, "The war room takes the shape of a celebration too. It is one of our biggest sale days and we have all hands on deck. Our team's role is to make sure we assist our employees on this day by making things easier for them. On this day, teams and the leaders make big decisions on the spot, so right from creating seamless work spaces to providing good food, snacks and hydration, and even making sure employees are dropped home safely, we plan every bit of it.
The team set up collaborative tables and screens in the Swiggy Bangalore office, making it easy for all employees to access each other across functions. A number of employees were also supporting the war room through remote setups.
Teching out
On the 31st evening, approximately 23 teams across Engineering, Analytics, Data Science and Prod Ops were present at the office, all prepared to take on a massive scale Swiggy would be experiencing for the first time. Planning for engineering readiness started about 8-10 weeks prior to the event.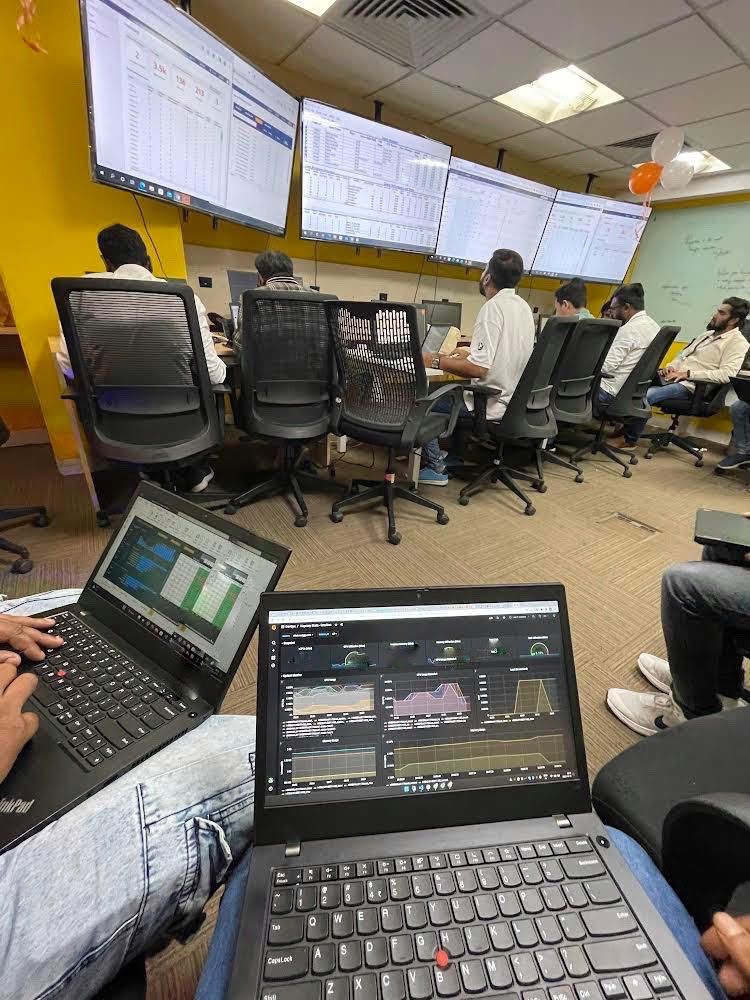 From around 3 pm, Swiggy started seeing a spike in the number of orders. While employees started handling them, real time coordination was also happening on the Slack #warroom channel with more than 950 employees working together to solve problems.
Thejas Varier, Senior Principal Program Manager – Technical who was overseeing the entire tech side walks us through the plans. "Learning from previous outages and preparing for the scale for NYE is what goes behind planning. We need to have a plan on handling failures. A Business Continuity Plan (BCP) helps us know and understand what to do if things go wrong for NYE. We cover pre-ordering journey and post-ordering journey as part of our BCP, and align on the levers we'll use in case of unplanned incidents," he says.
Speaking about his role, Thejas says, "I'm part of the technical program management team. I was in charge of ensuring all engineering and DS teams were aligned on the readiness goals, tracked their readiness schedules, BCP plans, coordinated release planning, enforced deployment freeze and got engineering teams together for WAR room efforts on NYE day. My role was to drive the planning and execution for NYE readiness and to keep leadership teams involved in the progress and help unblock Tech teams when we saw risks."
The teams also gather data on the maximum orders per day that they expect for new years eve, and try to forecast hourly trends to arrive on the peak orders per minute (OPM).
"We use OPM to calculate the maximum requests per minute (throughput) on our engineering services, and scale them to handle this throughput. Readiness of critical engineering services and having metrics dashboards to monitor and analyse metrics is also part of our preparation. Lastly, we also try to optimise costs, so we scale up for the high traffic time frame, scaling most of the systems. To ensure resilience and to also convert any critical caches or databases on single Availability Zone (AZ) instances to Multi-AZ (MAZ) before the event," he explains.
As Thejas and his teams continued to work the night away, one could hardly believe that this was his and many others' first war room with Swiggy.
For a company that delivers food and groceries on one of the biggest nights, the scale of work that goes behind the scenes is not something that can be explained easily. "What customers don't see is the months and months of planning that goes into pulling off one day like this. There have been continuous improvements to learn from failures in the past two years and beyond, that helped us fine tune our systems to handle scale and be more resilient. Like the saying goes, Rome wasn't built in a day, NYE readiness didn't happen overnight or over a few months," he says.
Crunching numbers in real time
Among the many teams that were running around to get things going, you could spot Goda Doreswamy Ramkumar, AVP – Data Science at Swiggy, and analytics team headed by Ishu Jain, Director Analytics Swiggy on the ground, solving for and providing real time updates.
Ishu was all praise for her first war room experience. "The energy was something I can't find words to explain. Our team was so kicked to be part of this and to help Swiggy make one of its biggest days one of its best. This day is what a majority of the tech teams and teams in general look forward to and we were thrilled to be contributing to it," says Ishu.
"We worked on seven different dashboards and made 46 different metrics available at near-real-time, this was unprecedented for Swiggy. The planning for this exercise was long and gruelling."
The team initially received a request to make hundreds of metrics available however they ensured that they were only considering the most actionable metrics.
Speaking about the preparation she says, "After finalising on core metrics we had to explore how many of them had stable reliable data pipelines to be reported. So imagine this, we were working with 25 different teams in parallel wire-framing and seeing what metrics to show on which dashboard, and actually started testing it out."
Speaking about one moment that was stressful but gave the teams a lot to learn was when UPI's went down and customers couldn't make payments. "Due to the surge in orders, UPI systems were down, which meant it would affect orders received. The checkout and payment team immediately got to work setting up other ways of payments. Another example, there's a feature where restaurants signal food as ready-to-go to the drivers. It stopped working, so it was chaotic but the energy was brilliant and teams got working on it. Leaders were seen interacting with all the teams and making real-time business decisions," she says.
Leaders were seen stepping in and out to sort out problems that cropped up. "Dale (Swiggy's CTO) was constantly seen running from room to the control centre. We were tracking how drivers were handling the surge, when issues like this crop up, we need to make sure that drivers are getting orders or they would log out, so all that monitoring was a heavy load. But, the team was so satisfied with the results, we actually didn't lose a lot of orders and we have to give kudos to the driver planning team who carried it all off very well. This was my first war room and I get goosebumps when I think of what a brilliant night it was," Ishu says.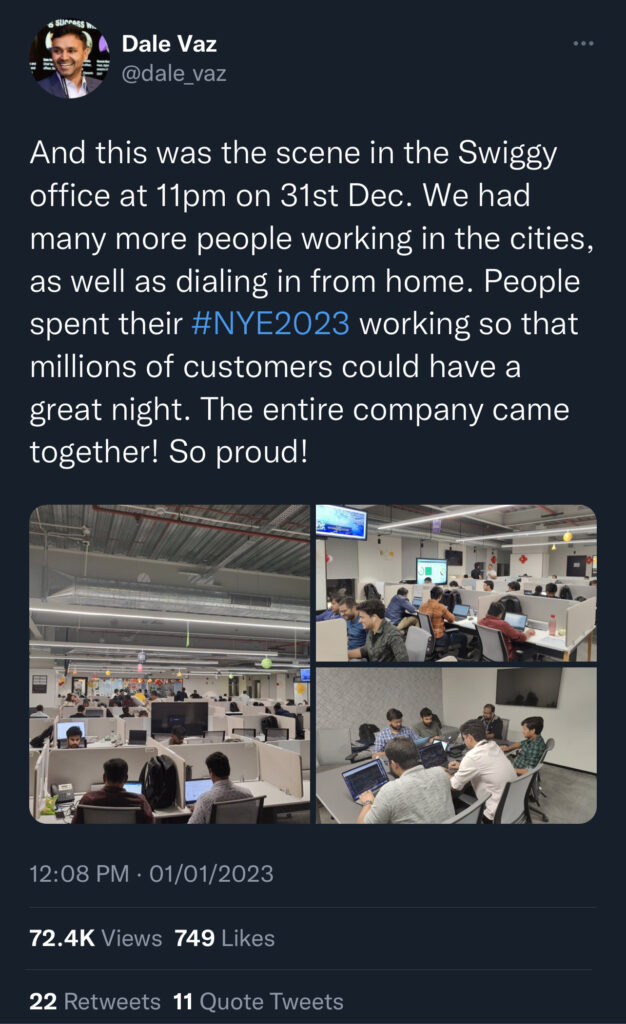 As the clock got closer to 12 am and order values typically got slower, the teams got thinner at Swiggy. It was such a huge team effort, each of us should be very proud of what we pulled off on this NYE," says Ishu whose team started planning for this on 15 November, 2022.
Customer Care to the rescue
As the tech team kept putting out fires related to the software, another battle was being fought by the customer care at another Swiggy office.
Speaking about how this was undoubtedly one of the best NYE at Swiggy, Arun Cyril, AVP Customer Delight says, "Having been a part of all of Swiggy's NYE days since its inception, I can confidently say that the floor was buzzing like an actual party and we had so much fun doing what we do best — serving our customers!"
A total of 492 customer care staff were present at the office, while a few thousand other employees were remotely supporting customers, delivery and restaurant partners.
So were there any misses? "On such a big day, there obviously were a few, one being some stress on the delivery partner support system. But it was nothing that the tech and product teams couldn't solve. All of the teams coming together made this the best NYE at Swiggy," he adds.
Last mile heroes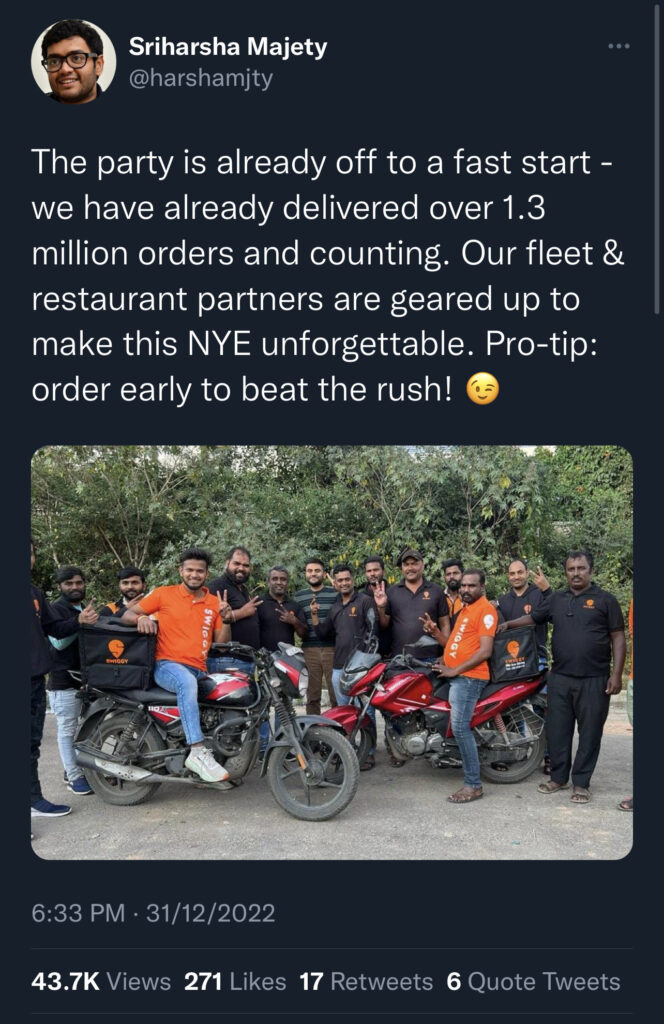 As the teams were working on the tech side, there was another set of people who were working tirelessly to deliver food and groceries to customers. Swiggy's last mile heroes who made sure all the teams' efforts actually counted.
Putting 3 lakh delivery executives across the country in motion, to ensure orders reached customers on time is a huge feat, and the teams are all praise for the people who made this happen.
According to the team, the objectives that they set to achieve were simple. "We wanted DEs to handle food carefully with no spillage issues, follow NYE guidelines, handle bulk orders and mark delivered products correctly. We also trained DEs to greet customers for the new year," says E Thomas Henry Mathuranayakam, AVP- Learning & Development.
Speaking about how the team enabled DEs to do so, Thomas explains, "Out of the 2.1 Lakh DEs actively delivering orders on 31 December 2022, and 1 January, 2023, 61% were trained to greet the customers for the new year. Of the orders delivered during this time more than half of them received customer ratings, with 90% of orders getting a five-star rating. Customers were thoroughly impressed with our delivery executives and how they carried themselves on such a big day."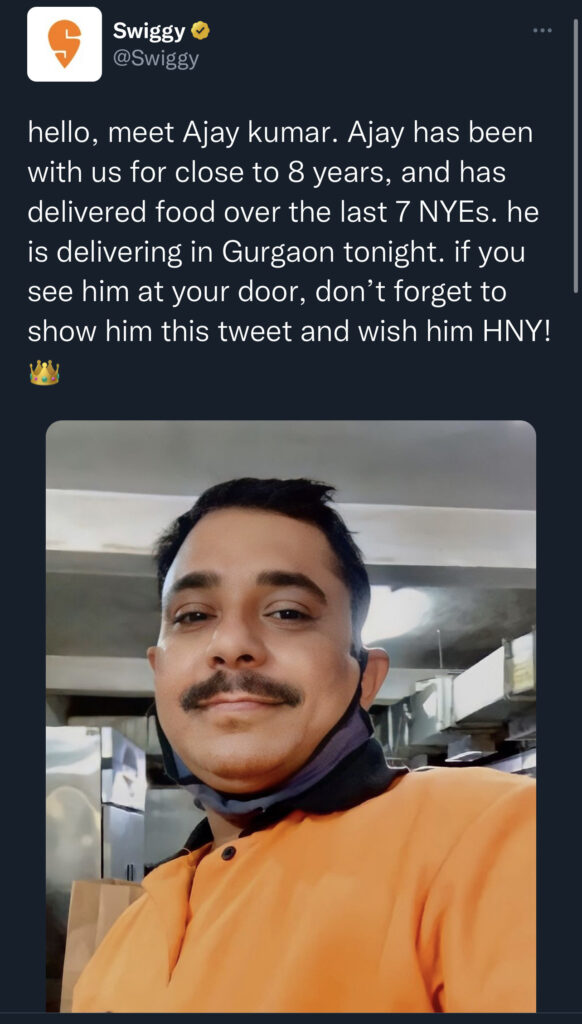 The team also received over 33,000 comments with encouraging customer feedback.
As DEs were delivering food and following the NYE guidelines, the team was cognizant of the stress of driving on the roads during this time. Thomas explains. "We acknowledge the hard work that DEs put into delivering, especially on a big day like NYE. To help them, when it came to safety we activated ambulance on call service across cities during NYE to ensure that if any DE needed help, we would reach out to them. In addition to the safety measures, all DEs were paid new year incentives."
The team agrees that there were hits and misses, but with all the customer love coming in on Swiggy's busiest night, the battle was clearly won.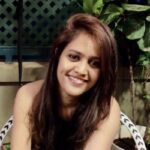 Priyanka Praveen leads content for Swiggy's Employer and Talent Branding team. She comes with 11 years of writing experience having worked for Indian and International news organisations. She loves story-telling, is an avid embroidery artist and a wannabe baker.