Mumbai is a city blessed with a beautiful paradox of modernity and tradition, chaos and peace, beauty and glamour. This place offers a lot of attraction points, from ancient temples, bustling streets, and rows of magnificent skyscrapers to an abundance in cultural richness. Mumbai definitely lives up to its name, i.e., 'the city of dreams'. The city is filled with energy and maddening hustle & bustle to amaze you.
Along with this, Mumbai is famous for its culturally and historically diverse landscape, one that is effectively represented in the culinary richness of the City of Dreams. From authentic local flavours to organic, farm-to-fork dishes, and a curated menu highlighting global accents, the city never fails to offer something interesting to your plate every single time.
The food scene in the financial powerhouse of the country is rapidly evolving. The city serves you with your craving for the day. Whether you desire Japanese cuisine or continental delights or even the traditional Awadhi cuisine, you have the finest selection of almost everything around. With the listing of the top-rated restaurants in Mumbai by Swiggy, you can order food online to enjoy the scrumptious cuisine or dishes of your choice, right in the comfort of your home.
Whether you are here for a trip or have been a born-and-bred Mumbaikar, you should know that there is no dearth of delectable dishes for your mealtime. Some of the must-try cuisines in Mumbai are:
1. Awadhi Cuisine
Awadhi Cuisine in Mumbai offers a wholesome experience in terms of sophistication, dining, and luxury. The wide range of dishes, combined to be a part of the classical Awadhi cuisine, has been perfected by famous chefs of the Nawabs of Awadh, right from the royal kitchens. As a matter of fact, Awadhi cuisine is regarded as the best cuisine in Mumbai you should not miss out.
The most distinctive characteristic of this traditional cuisine is the intelligent blend of interesting spices. The ultimate desire to achieve a unique style & flavour is depicted in the classical dumpukht style of cooking, reflecting the hallmark of Awadhi cuisine. The cuisine features both vegetarian as well as non-veg variants of dishes. Some of the most delectable dishes to try out are nihari, kebabs, korma, and biryani.
In Mumbai, some of the best places to try out Awadhi cuisine are House of Biryani, The Matka Biryani, and Copper Chimney.
2. Maharashtrian
Maharashtrian cuisine is an interesting blend of textures, colours, and flavours. From desserts to spicy curries, traditional Maharashtrian dishes in Mumbai are a perfect combination of unique tastes that will indeed tantalise your taste buds. The classic blend of spices in the iconic recipes creates a flavour-rich profile like no other. It is no wonder this cuisine is so popular.
Maharashtrian cuisines encompass both veg as well as non-veg options. There is an abundance of flavours in the Marathi food culture. With every bite, you can appreciate the intricate layers of intense flavours and recipes, passed down from one generation to another.
To indulge in an ultimate Maharashtrian delight, some of the top-rated restaurants in Mumbai you must visit are Diva Maharashtracha, Chaitanya, Konkani Haus Restaurant, and so more.
3. Mughlai Cuisine
Mughlai is a type of cuisine that is the outcome of the Mughal rule in India. The flavours of Mughlai cuisine can typically range from mild to spicy while being associated with the unique aroma and the utilization of ground and whole spices. Common dishes that specify Mughlai flavours include kofta, biryani, kebabs, murg tandoor, and so much more.
If you are craving the best Mughlai cuisine in Mumbai, the city offers a number of fine dining restaurants that are top-rated on Swiggy for their magical taste and customer services. Some of the famous names are Persian Darbar, Jaffer Bhai's Delhi Darbar, Kebabiz, and so more.
4. Gujarati Cuisine
Food from Gujarat is the oldest culinary delight and treasure of India. The state of Gujarat offers a wide spectrum of vegetarian dishes, including pickles, chutneys, farsans, and lightweight foods that are always high on the overall nutrition quotient. Apart from Gujarat, the cuisines here are also famous across the world. In any Gujarati cuisine, you can observe the use of excessive lemon, sugar, and even tomatoes. It is because Gujarat is a coastal state. As it remains hot throughout the year, the presence of rich ingredients in diet helps in keeping people hydrated.
As you try out the wide array of Gujarati cuisines, the Gujarati Thali is a must-try. A typical Gujarati thali will feature a large-sized plate featuring multiple smaller bowls that are filled with famous local snacks, curries, chutneys, pickles, and sweets. One of the distinctive aspects of a classic Gujarati Thali is that it allows you to savour the delicate flavours of salty, spicy, sweet-tangy, and even deep fried. Thankfully, for all the Gujarati cuisine lovers out there, Mumbai has something to offer to the cuisine's fans. Some of the leading destinations in the city to try out Gujarati snacks and meals are Thepla House by Tejals Kitchen, Golden Star Thali, and Khana Khazana.
Mumbai is indeed a fascinating place for those not just ambitious and seeking to achieve big dreams, but also foodies. The city boasts a diverse culture along with intense culinary richness with endless flavours from Maharashtra, Gujarat, South Indian, and so more. In Mumbai, you will be spoilt with choices with the overall breadth and quality of dining options available.
For your best-ever experience, visit the top-rated restaurants in Mumbai. Swiggy rates some of the leading restaurants and food joints in the city based on the quality of services and customer experiences. The best part is that you can order food online in Mumbai from Swiggy to get your favourite meals delivered right at your doorstep. Download the Swiggy App now to place an online order!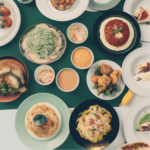 Satisfying your cravings, one bite at a time. Discover the best eats, trends, and uncover the hidden gems with us to make your online ordering or dining experience a memorable one.