Started your day with an intensive workout, but worried about what to eat when hunger strikes you? Wanting to eat something interesting but healthy food is not what you are craving. You wish to redeem by treating yourself with all the good pizzas and hamburgers, but healthy food is all you can choose. Do not worry, healthy food can be fun too! You can now be on track with your diet by hitting some of the best healthy food places in Hyderabad that you must try.
As you switch to a healthy routine, it is not about counting calories as much as it is about enjoying your daily dose of healthy and nutritious food. The last decade has witnessed a major shift in the food & beverage industry with respect to consumer demands and preferences towards consuming healthy food items. Millennials and upcoming generations are becoming increasingly conscious of their overall health and lifestyle. The recent shift towards healthy and nutritious food trends has made us curious about food options that are both nutritious and delicious at the same time.
Restaurants in Hyderabad Innovating Menus to Cater to the Healthy Food Trends
Hyderabad is a popular destination for tourists from all over the nation. In addition to boasting a rich cultural heritage and beautiful historical background, healthy and organic food is something, the city is moving towards. There has been a rapid shift in the modern culinary scene. In the past few years, there has been a major rise the consumer interest towards exploring restaurants serving healthy food options in the city.
Take a look at the famous healthy restaurants in Hyderabad that do not compromise on the taste and quality while delivering a super healthy menu at the same time, based on customer love on Swiggy!
1. Soul Rasa
Tucked away at a small corner on the famous Gachibowli Road, Soul Rasa is commendable for the adventure of going uphill to reach the food haven. As you settle in, you will be welcomed by the ingenious aromas of fresh fruits and juices all around in this cosy healthy food destination.
Soul Rasa offers access to a wide range of fresh fruity beverages, including smoothies and blends. However, you will be impressed with the exotic range of amazing food bowls served here, that comprise of wholesome nutrition.
At the same time, you can also choose delightful combos with fresh orange or watermelon juices to quench your thirst during the heat of the day. To try out something different, you can give their Jeera Millets and Beetroot Poriyal a try along with steamed brown rice for a fuller, nutritious meal. For a lighter yet satisfying meal, you always have access to the impressive salads' menu to select your favourites from.
2. Autumn Leaf
Get away from the disturbance of traffic noise and take a break from the monotony of life to enter a healthy food paradise you will not regret visiting. At this food hotspot, we can tell you will lose the track of time. Autumn Leaf is a home-turned-café in the upmarket and serene Jubilee Hills.
The exclusive garden area enhances the natural ambiance of the place. The fact that you are allowed to bring your pets to the café helps in adding comfort to the entire place. At this healthy café, you can look forward to enjoying quality time with friends and family. Ensure that you place an order for the delicious Shakshuka, a classic Egyptian breakfast featuring eggs. The place is also famous for the classic pear salad featuring candied walnuts along with blue cheese dressing.
You will also fall in love with the parcel of goat cheese Phyllo. If you are visiting this famous café during the evening, there is nothing more special than the hot chocolate to play with your sweet cravings.
3. Norfest
Hyderabadis cannot help but relish the Biryanis, quite seriously. To satiate their Biryani cravings, there is this famous café, Norfest, renowned for serving up the healthy version Hyderabadi Biryani.
The classic décor and exteriors of the café help in creating a perfect setting to enjoy a delicious, quick meal after a relaxing massage. The exclusive menu features seasonal vegetables for stimulating digestion.
4. Lo!
The contemporary Lo! offers a wide range of healthy and nutritious food options like fresh salads, pizzas, and no-hassle dishes like keto Parantha to select from. You will also be surprised with exquisite variations in healthy sandwiches.
The delicious soups here are quite wholesome and a complete meal on their own. The noble Keto sugar-free Halwa comes with an interesting spin of tasty dressing, hint of sweetness, and other condiments that the dish is served with.
5. Protein Chef
Do you prefer eating something delicious and full of proteins and nutrients? Protein Chef is the ultimate go-to eatery to experience what they refer to as Clean Eating. Most of the healthy dishes served here are less processed and sourced locally. Order the fulfilling sandwiches that are great choices for wholesome yet lightweight meals.
For example, you can think of digging into the delicious low-calorie subscription boxes, blending nutritious ingredients. The protein shakes for fitness enthusiasts and gym goers are another interesting inclusion on the classic menu.
Nutrition for Your Daily Needs. How to Adopt a Healthy Lifestyle?
Our diet chart keeps fluctuating as we advance to different stages of life. It is imperative for us to address the unique dietary requirements of our body towards staying healthy and active throughout.
The right nutrition plays an important role in keeping a person fit and disease-free across all stages of life. Nutritionists explain that selecting the right foods will help us in leading a healthy life, safeguarded from diseases.
Some additional tips to adopt a healthy lifestyle in Hyderabad are:
Eating habits amongst millennials are significantly influenced by peer pressure. There is a stronger urge to try food items that are full of cheese and butter. While it is not very healthy, it can still be great when nutritious options are included in your meal bowl.
And that is achievable in Hyderabad. With a myriad of healthy food joints and cafes across the city, you can easily adopt a healthy lifestyle in the most effortless way. If you wish to enjoy the taste of classic nutritious food items in the comfort of your home, you can order food online in Hyderabad from Swiggy.
Working out for 30-40 min a day can be beneficial to both physical as well as mental health. It keeps our body charged and active. So, along with practicing mindful eating, it is equally important to walk or do some cardio or play some sport daily.
Control the Intake of Additional Supplements:
The best nutrients are obtained out of food and not as capsules or powders. However, in the modern era, due to hectic life schedules and the overall lack of time, millennials are not interested in paying attention to the overall routine of food intake. Ultimately, they rely significantly on obtaining nutrition from different sources other than food.
Moreover, the nutrient availability of a food item also depends on the form in which it is consumed. For e.g., rather than consuming a bottle of fruit juice, you should select eating whole fruits for more fibre. It is pivotal to understand that whole foods help in building immunity.
Hyderabad is no short of healthy food havens for you to try out. With a plethora of natural, organic food hotspots across the city, you should indulge in an amazing gastronomical experience that is filled with nutrition and flavours at the same time.
Whether you are a resident or tourist to the city, you can also order healthy food online in Hyderabad from Swiggy. You can enjoy the ease of ordering online and getting your food delivered right where you are!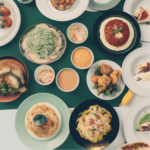 Satisfying your cravings, one bite at a time. Discover the best eats, trends, and uncover the hidden gems with us to make your online ordering or dining experience a memorable one.