Explore the logic, emotion, and dishes that make thalis special.
If you are one of those food enthusiasts who wants a taste of everything that a cuisine offers, the Indian thali is the perfect treat for you! One large plate has you covered with appetisers, main course, side dishes, desserts, and beverages all at once (and often in unlimited portions!). The thali is a culinary concept which serves a wholesome meal consisting of carbs, proteins, fibre, fat, vitamins, and minerals.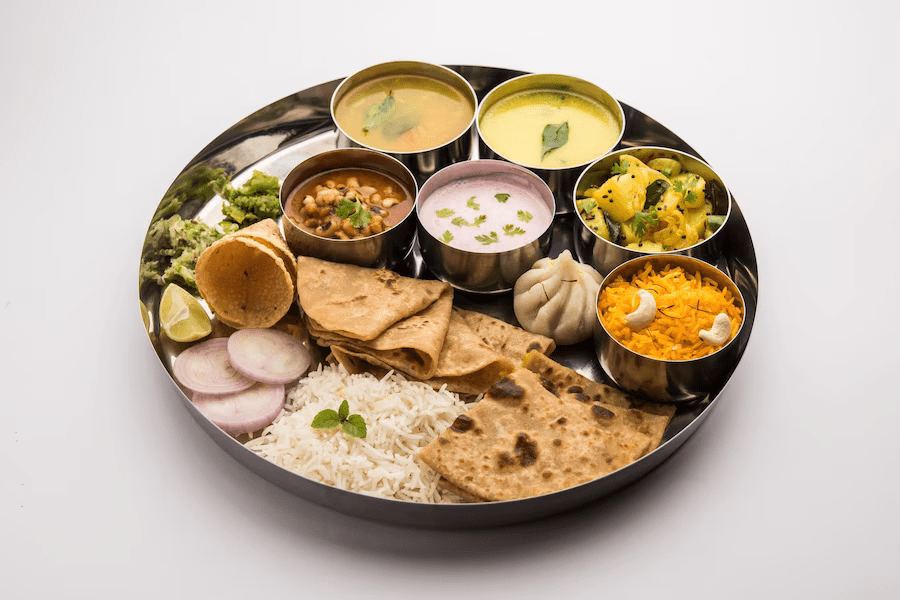 A typical thali is an ensemble of multiple courses served all at once. It includes grains in the form of rice and chapati/roti. This is eaten with a main course of two to three dishes of vegetables or meat cooked both dry and in gravy. Fruits and leafy greens are present as sabzis, chutneys, salads, and pickles. The goodness of lentils is served as dal in various regional recipes, and the comfort of dairy is sprinkled in the form of curd, ghee, or butter. Complete with dessert, crunchy papad, and a beverage that aids digestion, the thali becomes a delicious, fulfilling package.
While the thali is a nutritious meal, that is a mere bonus for enthusiasts who lead life with their taste buds at the centre. One of the major reasons people love the traditional platter is because they get to feast on so much variety in just one meal. The diversity, richness, and the thought behind the thali make it a culinary experience.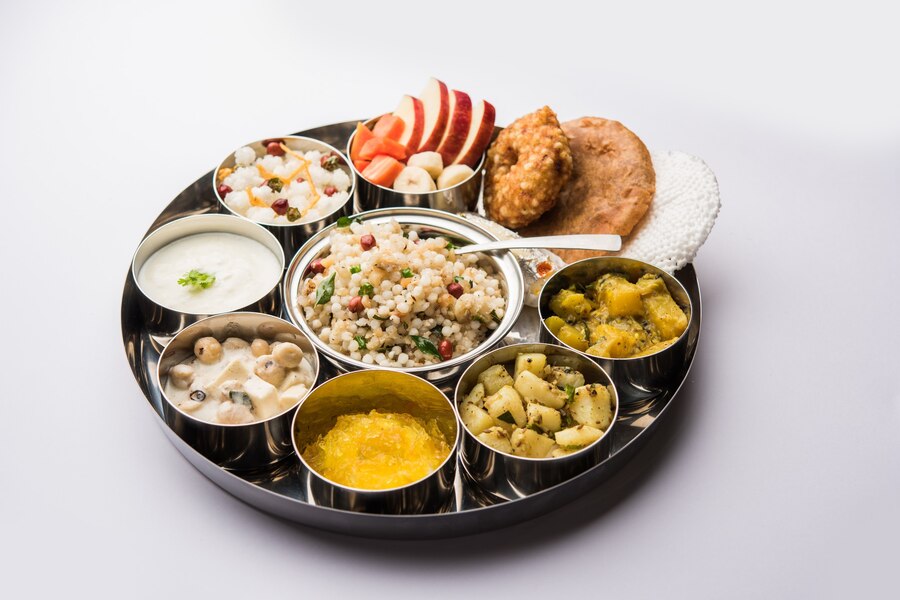 Across various regions of India, the thali has taken on a diverse range of avatars that represent different cultures and palates. Here's a look at some of the widely available ones:
The Andhra Thali: Andhra Pradesh's dry deciduous vegetation has stocked the states' cabinets with a plethora of hot spices, and the people don't shy away from using generous amounts in their food preparations. Consequently, Andhra Pradesh has developed a reputation for serving up some deliciously fiery meals which satiate the soul and strengthen the body. A typical Andhra thali includes the sour ooragay, steamed rice, the zingy pappu (Telugu for 'dal') along with its thicker, solid version called mudda pappu, tangy veggies (or koora), and fish, vegetable or mutton pulusu (a sour tamarind-based gravy). After lighting your taste buds on fire, the meal ends with a sweet seasonal fruit.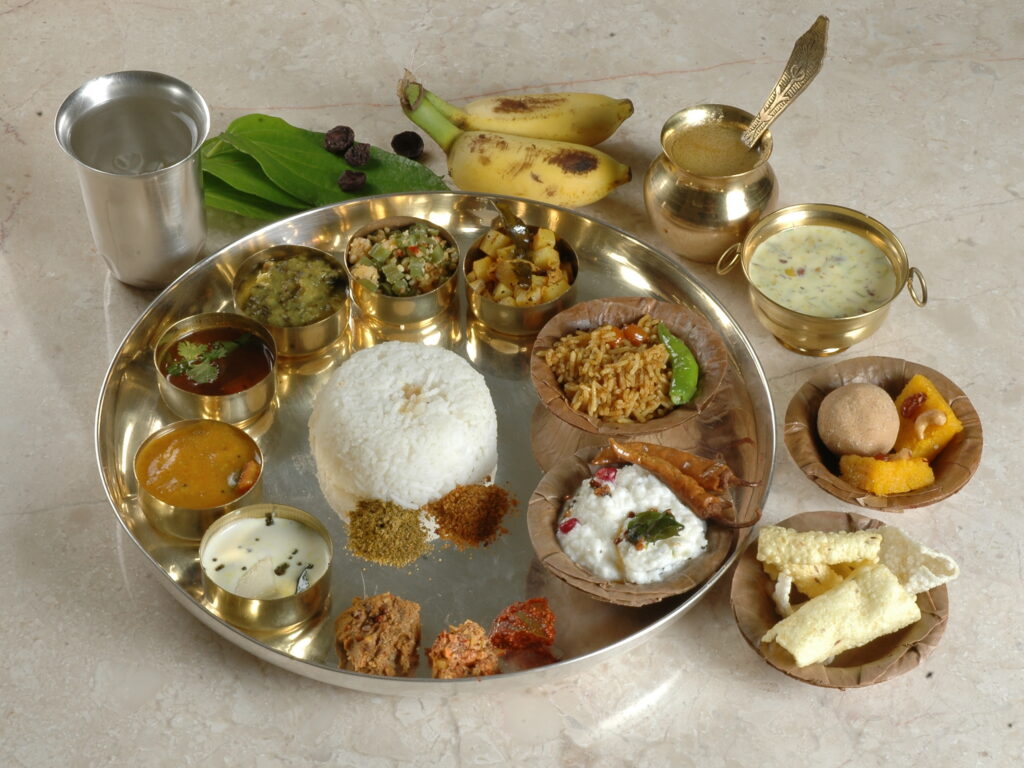 The Kerala Thali: Known for wholesome goodness served on a banana leaf, the Kerala spread typically includes 12-15 dishes. It is the thali that keeps on giving. The dishes range from appetisers like cucumber and beetroot pachadi (pickle), papadam, avial, kalan, and erissery made from seasonal vegetables to a variety of light breads like the appam, idiyappam, and neer dosa. Despite having an abundance of fruits, vegetables, and spices, the coastal cuisine is incomplete without fish and other meats. The coconut county treats meat enthusiasts with savoury varieties of beef fry, fish curry, and chicken curry. The meal is followed by a warm bowl of payasam that is sure to leave the eater blissful and satisfied.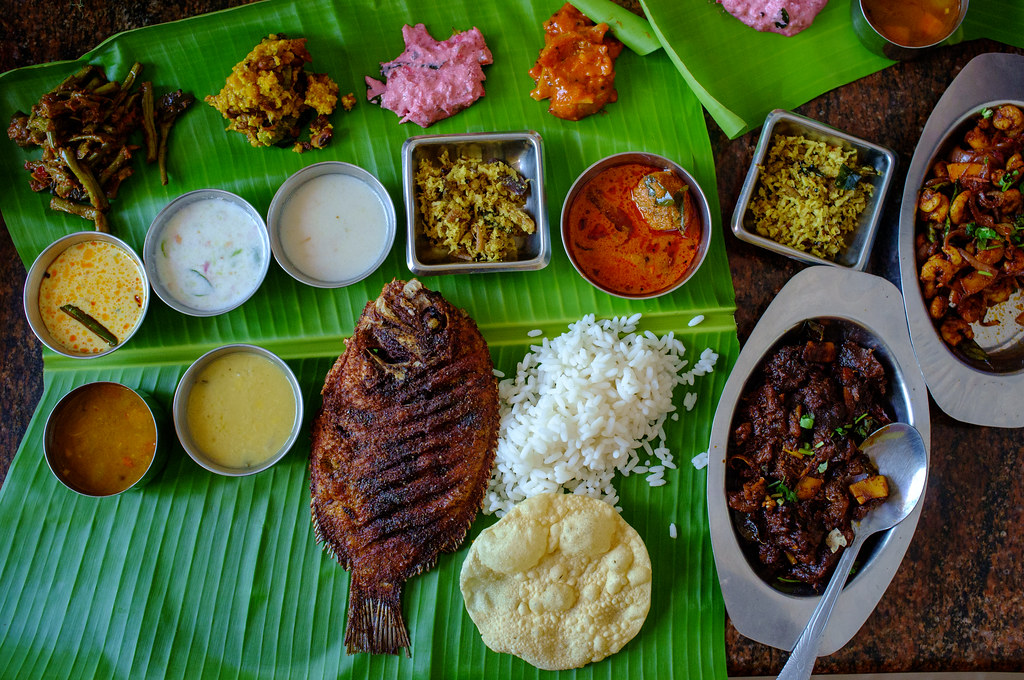 The Punjabi Thali: The land blessed by five rivers is popular for its five hundred varieties of finger-licking food. Like its people, the food is full of life. A Punjabi thali is decorated with an array of buttery dishes like butter chicken, paneer tikka, sarso da saag, and the iconic chole bhature. It balances dairy, spice, and meat with vegetables, salads, and thick lentil soup, which are served alongside jeera rice and butter-drenched roti or paratha. The meal is finished with a sweet like the chilled milk kulfi or sweet lassi. The thali from Punjab is sure to induce peaceful, uninterrupted sleep with its rich flavours and filling components!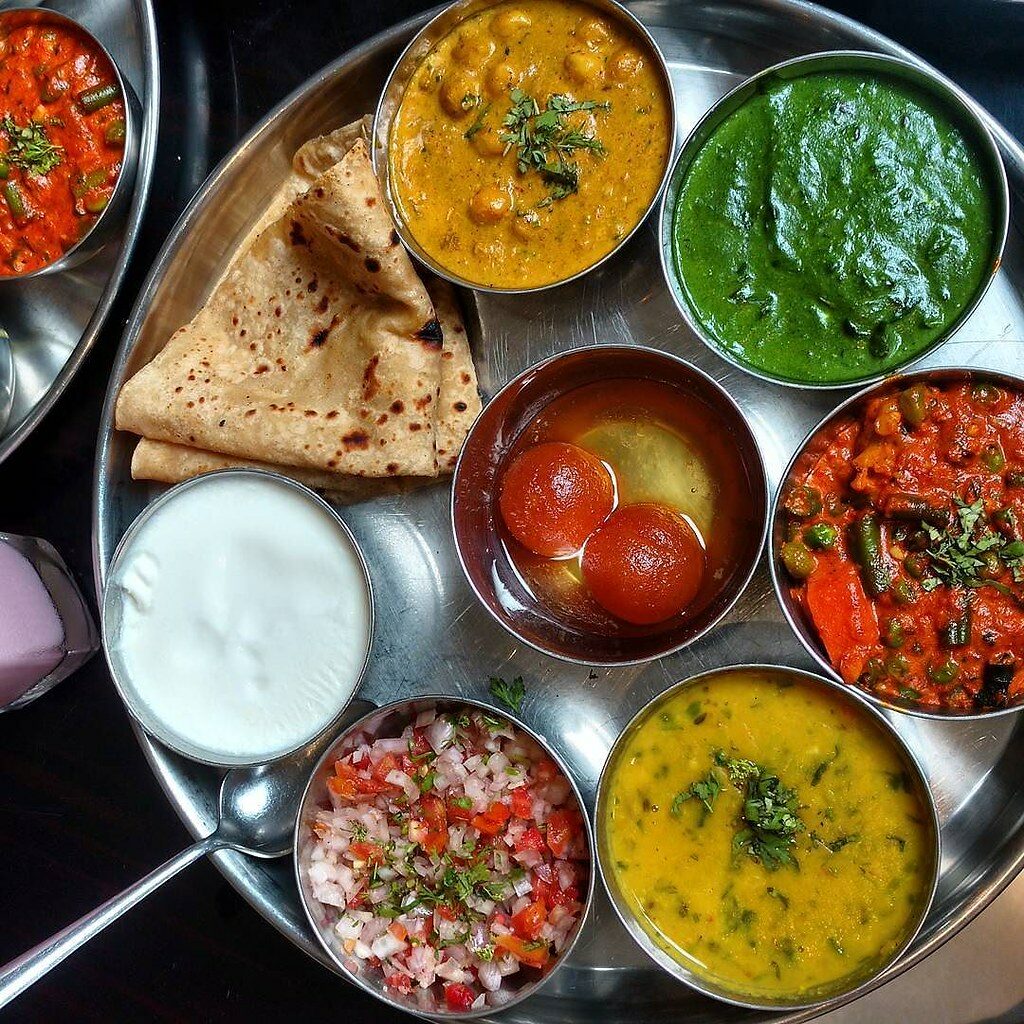 The Bengali Thali: It wouldn't be a food list without a delectable entry from the culinary capital of India, West Bengal. Being a coastal state, its thali ships out sizzling fish fry, fish curry, mutton gravy, and dum aloo served with a pile of rice and fluffy rotis. For vegetarians, the Bengali thali offers a variety of flavourful dishes like the ucche bhaja, aloo poshto, cholar dal, begun bhaja, and chanar dalna. Both kinds of meals end with mouth-watering desserts like payush or rasgulla.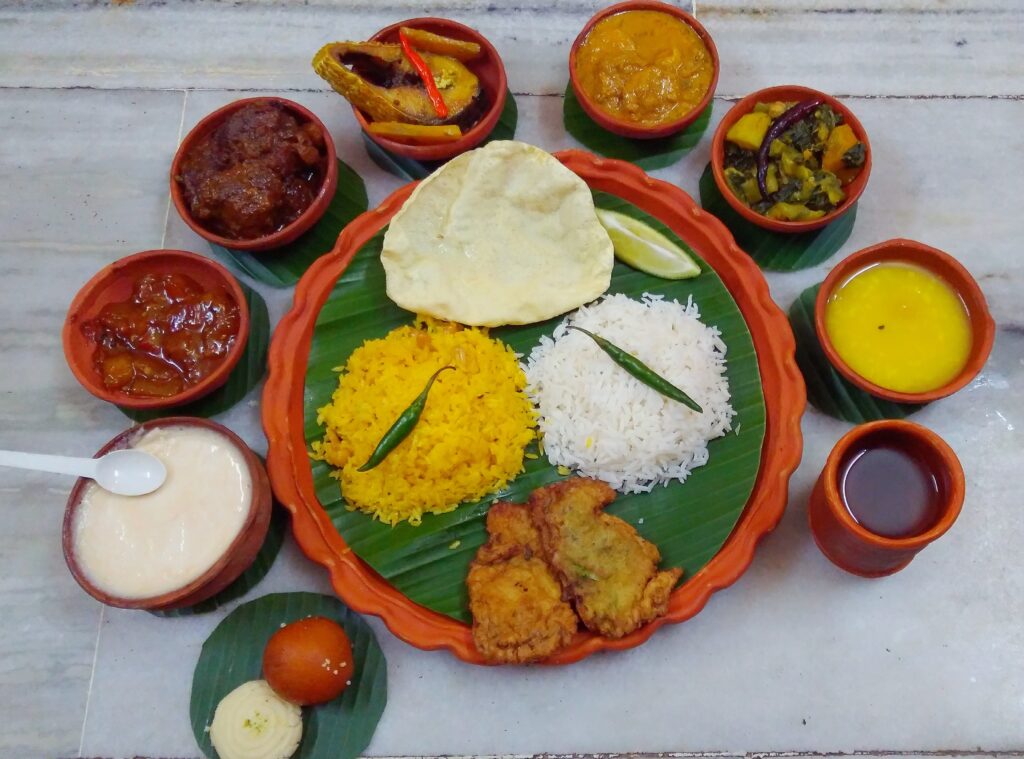 The Rajasthani Thali: Home to the biggest desert of India, Rajasthan's arid environment restricted access to fresh vegetables. But this did not stop the royals from creating a grand and flavourful cuisine. People used ingredients with a longer shelf life to create recipes like dal-bati-churma, bajra and jowar rotis, gatte ki sabzi and papad ki kadhi, the five-lentil dal, dal wadis, steamed rice, the sweet moong dal halwa, and the ever-soothing buttermilk. Though predominantly a vegetarian culture, Rajasthan didn't leave out meat dishes like the red hot laal maas and the creamy mohan maas. The Rajasthani thali is a festival of simple ingredients coming together to form grand flavours.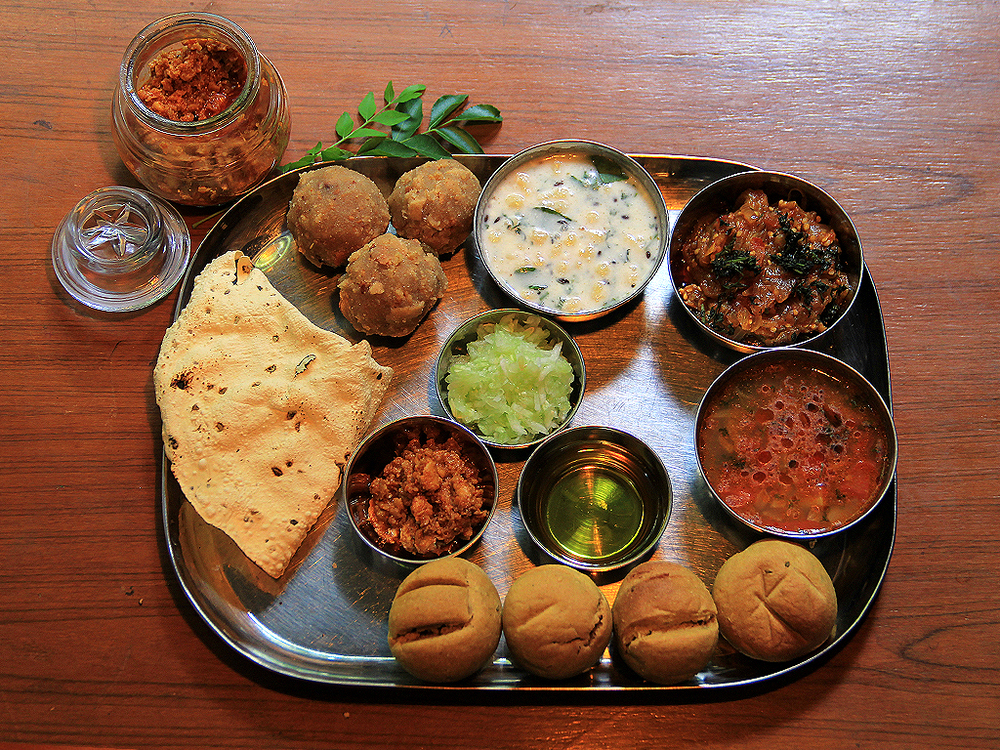 The Maharashtrian Thali: Coming from an agricultural state, this thali is humble in look and nourishing in impact. The Maharashtrian thali treats you with crunchy vegetable fritters, coriander wadi, the famous pithla and bhakri, a moth bean curry, dal, and traditionally spiced sabzis of potato and okra, brinjal, cabbage, or cauliflower. It also takes you on a flavourful ride with the cool vegetable-and-curd salad called koshimbir, served alongside pickle and hot spicy thecha. The meal ends with a sweet dish like basundi or puran poli, and buttermilk. For the non-vegetarians, Maharashtra's coastal region is known for its tangy fish thali, whereas its southern parts are famous for the spicy mutton thali.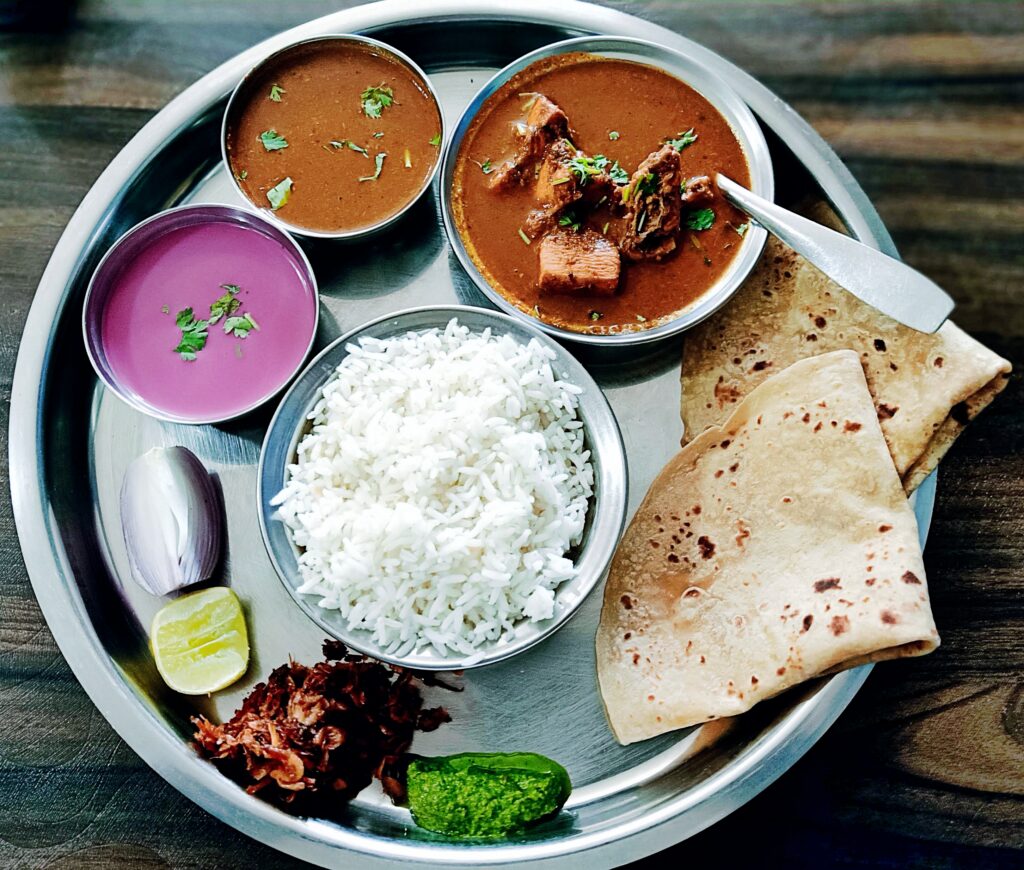 The Gujarati Thali: Gujarati cuisine reflects the sweetness of the foodies who created it. Light on the spices, easy on the palate, and delightful in experience, the Gujarati thali is a gentle but exciting ride. The main course includes light flatbreads like roti or the multi-grained thepla and a variety of mixed vegetable sabzis made dry and in gravy, undhiyu being a signature specialty. On the side, the thali offers delectable vegetable fritters, dhoklas, kachori, and chaat. These dishes are complemented by salad, pickle, dal, buttermilk, and dessert. To top off the richness, the entire meal is cooked in ghee. The Gujarati thali is vegetarian, but has enough character to compete with a non-veg thali, even for the meat enthusiasts.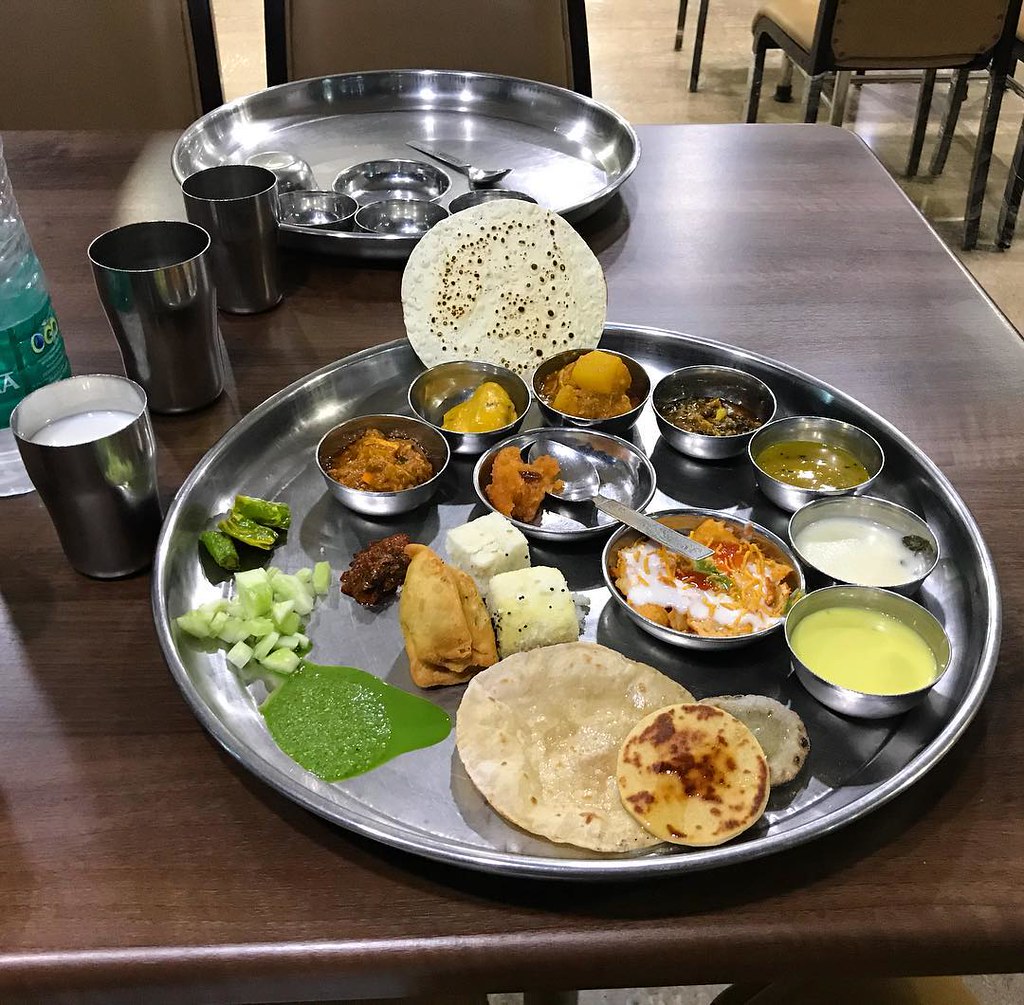 The thali is undoubtedly one of the best ways to bring together nutrition, flavour and variety.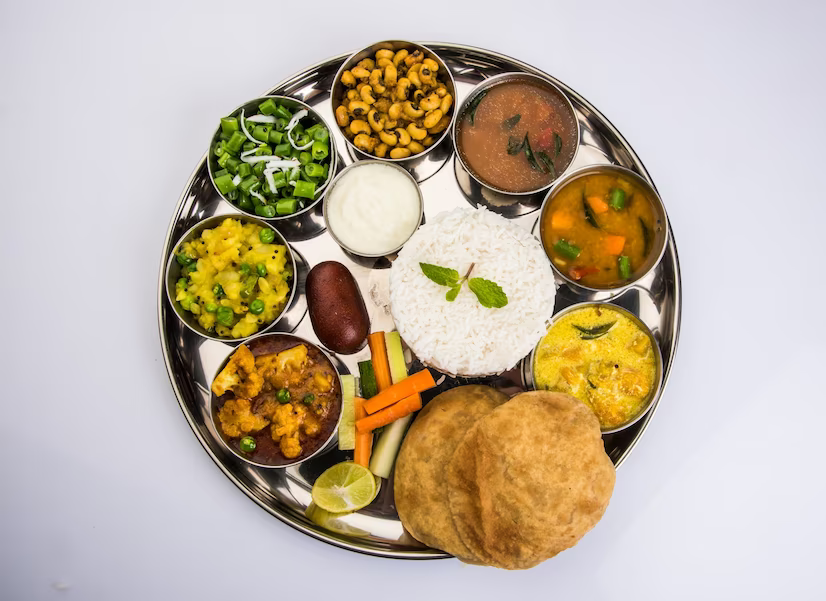 If you are looking for an in-depth culinary experience, and would like one of the above thalis to be your next meal, it's time to explore a selection under the cuisines section of Swiggy. We bet we can deliver it to you faster than you can finish the thali!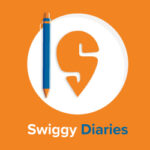 Swiggy Editorial is a team of writers who work with the company's Employer Branding team.