As if you did not have enough reasons to love Kolkata already, did you know that the city also serves a crazy variety of healthy food with gourmet ingredients? This City of Joy brings an assortment of superfood smoothies, healthy salads, protein shakes and all the food that proves healthy doesn't always need to be boring!
Diverse and cosmopolitan, the food scene in Kolkata is something unique you must try out! Moreover, if you are in search of healthy food options in this bustling city, the options are endless. The ever-famous Bengali cuisine in Kolkata is rich with wholesome desserts, lush vegetables, flavourful seafood, and hearty meaty dishes to suit your taste buds. Hogging on the rich cuisine of the city is the best option to experience unmatched healthy food options in Kolkata. So, if you have to keep a track on your calories, save the following list of top-rated restaurants on Swiggy, that will fulfil your craving!
Top Best Restaurants in Kolkata Serving Healthy Food
A trip to Kolkata will be complete only when you try out the range of the must-have healthy food options in the city. The best part is that there are endless options to satiate your cravings for something healthy and nutritious. Undoubtedly, the variety in food in the city will mesmerise any food lover.
Here are some of the best restaurants, top-rated by our customers on Swiggy, offering healthy food in Kolkata:
1. Ubuntu Eat
Ubuntu Eat is a simple and cosy space with a mesmerising concept. The entire décor and menu of the place focuses specifically on a healthier lifestyle and mindfulness for a better tomorrow.
Ubuntu Eat is one dedicated space wherein you can drop in for a delicious meal, host meetups, and have a great time with like-minded people. The menu is filled with healthy and nutritious food items.
You have the option to relish the sought-after "Sahi Vada", a version of Dahi Vada made from peanut milk. The mini burgers here are made from spinach and beetroot with a wheat patty and soya. The dish is presented with a special in-house dip.
Ubuntu Eat offers everything from healthy smoothie bowls and black coffee to even healthy pastas, burgers, home-baked pizza, and so on. Therefore, next time you are visiting Kolkata and wish to try some amazing food, then you can order from Ubuntu Eat.
2. Urban Masala
It is a great spot for vegans. Urban Masala in Kolkata is the latest addition to the veg café and restaurant scene in the lively city. The place features elegant décor with a comforting ambiance throughout.
Urban Masala is a pure veg healthy restaurant offering access to both South Indian and North Indian delicacies. At the same time, there is a wide range of healthy food options as well. You must try the nutrition-filled Agli Olio Pasta at the eatery.
On the other hand, if you are in mood for some Indian delicacies, you should not hesitate in ordering some customized vegan food options for you. The entire menu falls under the standard budget range given the taste and variations.
3. Fly Kouzina
Have you been lately missing out on the classic airport scene due to the ongoing pandemic? This destination is a must-visit place to get the overall feel. The City of Joy brings forth another innovative, multi-cuisine, healthy restaurant with the mesmerising airport theme. The vegetarian restaurant unfolds a series of vegan options at the same time.
If you wish to satisfy your taste buds, you can try out the wide range of delicacies offered at Fly Kouzina. Situated in the heart of the Salt Lake, Café Fly Kouzina invites you for a wholesome flight experience. The best part is that you even receive a boarding pass.
You can try out the classic dishes like 'Khao Suey' and Broccoli Dumplings to have a great taste of the divine healthy flavours here. The presentation of the delicious dishes at the restaurant is also quite unique. It is an ideal destination for a perfect date night with your bae or when you wish to hang out with friends or family.
4. The Daily Café
Situated in the plush area of South Kolkata in Deshopriyo Park, the café radiates a sense of the millennial vibe as soon as it enters the premises.
From high-end salads to hummus platters, the Daily Café unfolds a wide range of delicious vegan food options. Health-conscious individuals can try out the special "Keen-Waah" salad made from quinoa, cherry tomatoes, red cabbage, a lemon dressing, olives, fresh herbs, and leaves.
You can also try out the exclusive Avo, featuring avocadoes, almonds, tomatoes, olives, lemon mint dressing, and kale. For your unmatched dessert experience, you can order the Berry Cakes featuring vegan almond milk and whipped cream.
Conclusion
As far as the food scene is concerned, Kolkata is second to no one in terms of the overall flavours and varieties. With several healthy food restaurants in Kolkata, you can choose the one that best suits your taste preferences and health objective. For instance, you can filter your search for restaurants by opting for food for weight loss in Kolkata.
At Swiggy, you have the ease of ordering food online from a series of healthy restaurants in Kolkata. The best part is that you can get doorstep delivery of your favourite and famous dishes at any time of the day or night. The next time you are out on a venture to explore Kolkata, make sure that you are trying out the delicious healthy foods and dishes. With the superfast, easy-to-use, and convenient online ordering platform of Swiggy, you can enjoy scrumptious, nutrition-filled meals right in the comfort of your home.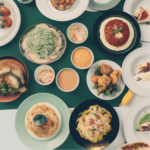 Satisfying your cravings, one bite at a time. Discover the best eats, trends, and uncover the hidden gems with us to make your online ordering or dining experience a memorable one.