Ayushi Johari joined Swiggy in October 2022 and is currently working as Manager – Consumer Insights at Swiggy. We are excited to present #ANewSide to her: free-flowing, artistic, and passionate. Read her story in her words, for Ayushi is #MoreThanASwiggster.
A big part of our lives is about passion: the search, the exploration, the pursuit, and sometimes, just revelling in the joy of having it. From a young age, I filled my free time by painting whatever interested me and got lucky to find immense support from everyone around me to pursue it.
I chose Fine Arts as the subject of my Bachelor's at the University of Delhi. I couldn't believe I'd be taught, given assignments, and even graded for something I so dearly loved! The four-year period not only made me love my craft more but also helped me discover new avenues to explore. When I decided to pursue my Master's at the National Institute of Design- Ahmedabad, I found a nurturing environment that allowed me to flourish. As part of my learning journey, I was introduced to research. When you think of art school, a class full of students painting comes to mind but there's so much more to it. I was fascinated by the research part of my course and decided to pursue it professionally. It interested me because I would be the one coming up with new ideas to execute – a big step for a designer.
Predictably, once my profession took over, my passion took a back seat. I hadn't held a brush for a long time so I picked up my painting kit and it felt like I'd come home. I started to paint and share it with the world through Instagram. It instantly connected me with hundreds of people and not long after, some of them even inquired about whether I was willing to conduct painting workshops. I hadn't ever thought I'd teach painting but I loved the idea of using art to share and spread the same joy it gave me.
Many people thought that this could be a great opportunity for me to build a side hustle or to make some extra cash, but I made it a point to ensure that I don't let my passion for painting get tainted by the excessive need to be more productive all the time. Art always gave me joy, and that's what I wanted to do for others in these classes.
So, I started to conduct workshops during weekends, charging only for the investments I made. I explored, learnt new techniques and worked in unconventional ways where I designed the workshops to be more joyful and therapeutic, and not a stressful time of trying to achieve perfection.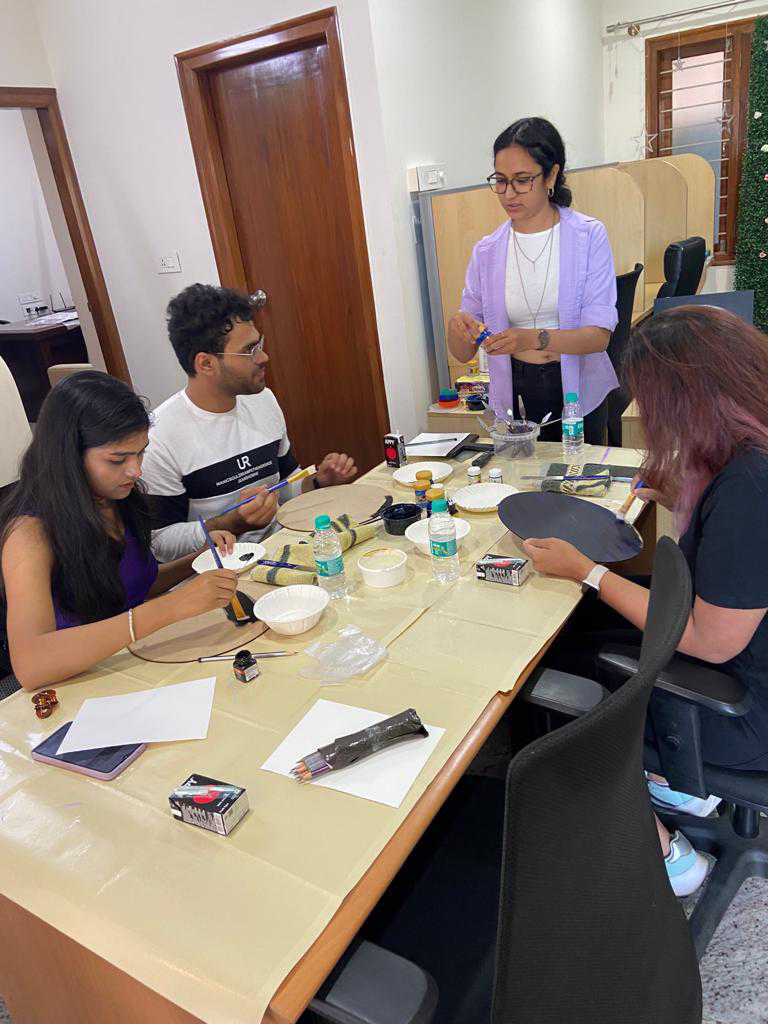 And it's just been magical: the learning experiences I got from meeting new people, experimenting more, and indulging in art for the joy of it. So far, I've been able to maintain the sanctity of the experience and share my perspective with other art lovers as well. I just hope that in a world driven by the need to turn everything into a hustle, we find the courage to do things we love just because we love them, to experience life for the sake of some experiences, and to share our joys with others.