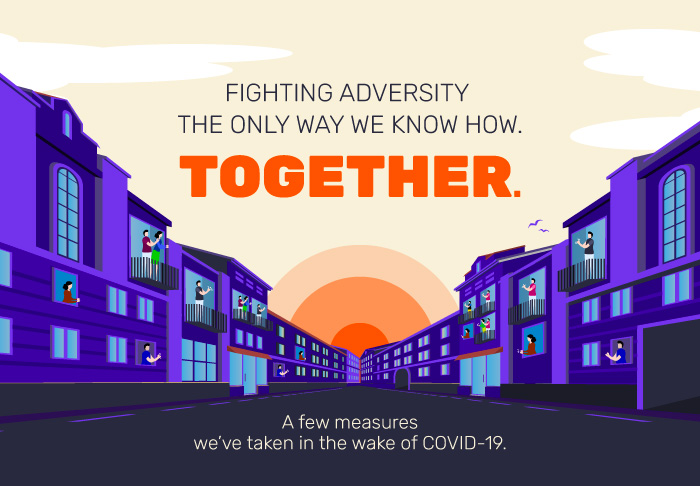 While the recent COVID-19 outbreak has adversely impacted normal life across the globe, there have been several people who have been selflessly serving us as always. Like the medical professionals who tirelessly take care of us, the media professionals who keep us updated, and the countless service industry professionals bringing everything from milk and food to newspapers to our doorsteps.
At Swiggy, the safety of all of our stakeholders is of utmost importance to us. To this effect, we have implemented a slew of precautionary measures to minimise the chances of the spread of the Coronavirus, along with upkeeping health, hygiene and safety, and will continue to do so.
Here are some of them:

For Delivery Partners
Training
We regularly send reminders to our Delivery Partners on best practices of respiratory hygiene, proper method and frequency of washing hands, as well as identification of associated symptoms. A series of videos capturing pertinent details shot in multiple languages is being circulated as a ready reckoner.
Masks for Delivery Partners
We have started the distribution of N95 masks to all our delivery partners in the affected cities, free of cost.

Tipping for Delivery Partners
From being on the roads when everyone else is home safe, to being good samaritans, our Delivery Partners are going the extra mile in this time of need. We're introducing a new tipping feature on the Swiggy App so customers can show their appreciation and support for our hunger saviours during these testing times.
The Swiggy Hunger Savior Covid Relief Fund
A fund has been set up for the welfare of our delivery fleet and their families, with primary contributions being made by Swiggy's founders, senior leaders, employees and investors. Through this fund, Delivery Partners are now covered with Income Protection Insurance, where up to 14 days of income is insured if they test positive for COVID-19. The fund will also be used to provide sustenance support through food and grocery care packages to the partners and their families who are facing hardships. Additionally, parents and family members of Delivery Partners currently not covered by existing medical insurance will also be covered by the fund towards medical/hospitalization expenses related to COVID-19.
No-Contact Delivery
Customers who are unwell can opt for no-contact delivery by updating the Swiggy app, or by calling their Delivery Partner and asking for their order to be dropped off at their gate or door. This can help our Delivery Partners and customers stay protected by eliminating avoidable contact.
Medical Assistance & Insurance
In case of Delivery Partners developing any associated symptoms of the Coronavirus, we have urged them to alert us immediately and consult a medical professional. We are providing them with free on-call medical consultation through our partners. In case a Delivery Partner or their family members (spouse and children) contracts the virus, all medical expenses will be taken care of through the medical insurance provided by Swiggy.
No-loss Self-quarantine Programme
Our Delivery Partners have also been advised to self-quarantine themselves for the recommended period upon noticing any symptoms related to COVID-19. To ensure their financial safety, we are committed to supporting them financially in such situations.
For Restaurant Partners
Best Hygiene Practices
We have shared a detailed advisory with all of our restaurant partners to guide them on best practices to maintain hygiene and sanitization in their kitchens. These include hand washing regimes, mandatory temperature checks, use of 3-ply face masks for all staff and self quarantine measures in case of any illness. We are also urging partners to pack all orders in separate bags to avoid direct contact with anyone during transit and to provide for a hand-sanitizing facility to Delivery Partners at the order pick-up point.
Auditing Restaurants with Best Safety Standards
We are working closely with restaurants which we have identified to be taking additional precautionary measures including daily staff testing, maintaining high hygiene standards and safe packaging. You can look for the Best In Safety badge or collection to order from these restaurants. For many of these restaurants, you can also get a peek into their kitchen to see some of their safety processes through photos in the Safety Standards section in their menu on Swiggy.
This collection is currently live in 48 cities and we are trying to make this available to more cities soon.
Commission Payouts
To enable better cash flows for restaurant partners during this challenging phase, Swiggy is increasing the frequency of their payouts.
Availability of Restaurants
Although some restaurants have decided to shut down their dine-in facilities temporarily to encourage social distancing, many of them will continue to service delivery orders. We are also enabling thousands of new restaurants on the platform who were not available for online delivery earlier.
---

For Customers
No-contact Deliveries
We have rolled out a 'No-contact Delivery' feature that customers can avail of for all prepaid orders. In case they are unwell or prefer a No-contact Delivery, customers can activate this option by updating their app or calling their delivery partner. The Delivery Partner will intimate the customer and leave the food package on a clean surface near the customer's doorstep to ensure a contactless delivery.
Safety First Center
Our 'Safety First Center' feature on the home-screen of our app and web platforms is updated with information on what we are doing to create a safe, hygienic and healthy ecosystem for everyone.
---

For Employees
WFH
Corporate teams have been mandated to work from home (until further notice) while maintaining a reduced workforce across other essential centers. There is regular communication being sent out to all employees on the hygiene practices and social distancing.
Safe Workplaces
We have also carried out fumigation of workspaces, earmarked quarantine transit zones and enabled quick access to medical support. We're also conducting compulsory temperature and hygiene checks across all offices, kitchens and hubs along with distribution of N95 masks.
We are truly grateful to everyone who is working towards ensuring continuity of services to support the needs of our customers and partners. We're confident that with the right practices and support, we can help curb the spread of COVID-19.