Here are the programs that Swiggy has launched for its delivery executives.
---
A company grows when its people grow; with this philosophy at the root of all that Swiggy does, the company, so far, has launched four programs for the advancement & prosperity of delivery executives and their children.


Step Ahead Program: Ambitious Delivery Executives get a unique opportunity to pursue their dreams and aspirations through this program. With 'Step Ahead', DEs with a graduate degree or those who have been with Swiggy for a significant amount of time can apply to accelerate their career. Not only does the program cover essential life & professional skills, it also acts as a kick-off point for DEs to assume relevant managerial roles at Swiggy.
Swiggy Skills Academy: An initiative that focuses on meeting the goals of DEs and their children. After extensive research and a thorough understanding of the DE fleet's requirements and expectations, Swiggy Skills Academy enables them to avail multi-skill and multilingual learning opportunities.

That's not all. The Academy also accelerates the learning curve of their children and continues to do so even if a delivery executive decides to leave the company. So far, an encouraging 37,685 DEs have registered for the courses.
Superhero Outfit for Delivery Executives: Over the course of time, Swiggy realised that the DE gear was in need of some serious revamping – not only in terms of aesthetics but for better functionality too. Considering the nature of the job and the sheer amount of time DEs spend outdoors, the company knew that the new outfit must provide comfort and safety, as well as a sense of pride.

And so was born, the all-new Superhero outfit for our Delivery Executives. Featuring sun protection, breathable fabric, and the dry-fit material used in athletic clothing, the new t-shirts also have special reflectors for better night-time visibility.
Sexual Harassment Policy for Female Delivery Executives: There are many women working as delivery executives for Swiggy. To create an ecosystem where women feel safe, valued, and empowered, the company has come up with a Sexual Harassment Policy. The policy raises awareness, sensitises people, provides emergency assistance, guides women in handling an issue, and stays vigilant against potential problems. With this, Swiggy aims to encourage women to join the workforce without apprehension.

From everyday incremental changes to larger programs and initiatives, Swiggy wants to create a holistic life for Delivery Executives and their families. They are a critical pillar of Swiggy's success as they fulfil the promise the company makes to customers, Swiggy wants to fulfil their hopes and dreams.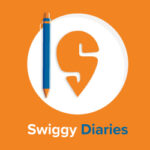 Swiggy Editorial is a team of writers who work with the company's Employer Branding team.