Tingle you taste buds with the ultimate Assamese delicacies of Guwahati and get to know some amazing mouth-watering recipes of Guwahati cuisines.
Cuisines in Guwahati
If there is a cuisine in India that most of us do not talk about, then it is the Assamese cuisine. Offering the ultimate taste of Guwahati and surrounding areas, the food in Guwahati is a plate full of unique food items. With a wide range of indigenous offerings on its platter, cuisines in Guwahati are famous for their distinct influences and flavourings. If you are curious to know about the less-known delights of Assam, then get ready to know about the scrumptious range of delicious cuisines Guwahati offers to delight your taste buds.
Featuring sprawling tea plantations, ancient pilgrimage sites, temples, and the famous silk bazaars, the city of Guwahati has ample to offer. Whether you wish to indulge in fun-filled activities or visit the famous sightseeing spots, glance at the popular local handicrafts or divine cultural performances, the Northeastern city offers the assurance of an unmatched holiday experience. As far as the food here is concerned, the entire state of Assam has something unique to offer.
What Famous Cuisines to Try in Guwahati?
There are a lot of cuisines served in North India. The unique style of cooking and serving food here blends innovative styles like drying and fermentation along with the utilisation of farm-fresh vegetables. Most local dishes in Guwahati also make use of meat and fish to enhance the flavours. Rice remains as one of the staple ingredients of most fulfilling meals in Guwahati and entire Assam.
If you are visiting Guwahati anytime soon, it is imperative for you to try out some of the famous cuisines here. Some to relish on are:
1. Assamese Cuisine
Assamese cuisine blends the unique cooking patterns of the hills, prioritising drying and fermentation as popular ways of preserving food. The traditional cooking patterns are blended effectively with flavours from the plains offering access to an impressive array of fresh fruits & veggies and an abundance of healthy greens. Most of the preparations in a typical Assamese cuisine are centred around the core theme, rice.
The conventional way of preparing dishes in Assamese cuisine is quite similar to the South-Indian cuisine from Burma, Thailand, and others. The cuisine is heavily characterised by slow cooking over fire along with the use of strong flavours. It is primarily because of the use of local ingredients like exotic veggies and fruits that are dried, fermented, or used fresh. A conventional Assamese cuisine starts with the preparation of Khar. Another quite common dish is Tenga, a type of sour dish. In some cases, the overall preparations can be quite elaborate. The food is usually served in utensils made from bell metal by the local indigenous community. To try out the popular Assamese cuisine in Guwahati, you can order from places like Michinga, Keri Beri, Jutire Akhaj, and The Bowl Factory.
2. North Indian Cuisine
The popular food culture in Assam will vary from one city to another. However, Guwahati also boasts its impressive offering of delicious North Indian cuisines dishes across the famous North Indian restaurants of the city. If you are planning to visit the city, curating the unmatched North Indian food itinerary is essential. Thankfully, the city has no dearth of options when it comes to finding the best North Indian food.

Whether you wish to relish on the exotic flavours of the famous Chhole Bhature or taste the unique essence of a complete North Indian Thali, Guwahati and its impressive lineage of North Indian restaurants have got it covered for you. Some of the must-visit North Indian eateries in Guwahati are Shree Ganesh Family Restaurant, Thali Express, Mast Punjabi Dhaba, and Chef Dabba.
3. Chinese Cuisine
Guwahati is home to several Chinese restaurants as well. From the famous Taiwanese treasures to dim sums and even Sichuan spices, Chinese food is readily available across the city. The classic restaurant scene of Guwahati offering access to bespoke Chinese cuisine does an amazing job of allowing you to indulge in a whole spectrum of regional cuisines as well as dishes spanning the entire globe.

Whether you are looking for a casual outing or fine dining experience, the reputed Chinese restaurants in Guwahati leave no stone unturned when it comes to giving you a taste of your desired Chinese dish. Make your way to taste the divine flavours from China at some of the top-rated Chinese restaurants in Guwahati, including Fat Belly, Noodle Kitchen, Confucius, and YouPick Kitchen.
Must-have Dishes in Guwahati
Most people call themselves as North India food lovers, but they haven't ventured anything beyond momos. It's time to know about the must-try dishes of Guwahati. Look no further than this list of local dishes from the best restaurants based on users rating on Swiggy that would be hard to find anywhere other than in Assam:
1. Khaar
As you are looking for the most famous dish in Guwahati, Khaar is a famous non-veg dish that has its iteration in every household. This popular dish is prepared from the ash extracts of banana peel, dried-up banana trunk and raw pieces of papaya. It also features taro, pulses, and raw papaya.
2. Masor Tenga
It is a tangy fish curry made zesty with tomatoes, outenga, fenugreek, sugar and lemon. Therefore, the soup-like dish attains a tastefully tangy flavour. It is best served with steamed rice for a fulfilling meal.
3. Duck Meat Curry
It is yet another special offering by the state of Assam. The dish is usually prepared on festivals or special occasions. It is usually prepared by combining Ash Gourd and Duck Meat with oodles of spices. Additional ingredients are lentils, pumpkin, sesame, and so more.
4. Xaak Aru Bhaji
Typically consumed as a side dish, it is prepared with veggies as well as herbs along with seasoned garlic, lemon, and ginger. It is a daily dish that is consumed as a part of dinner and lunch when it comes to trying out Assam food.
5. Ou Khatta
It is a sour and sweet chutney that is made from elephant apple or Ou. Jaggery is added to impart the sweet flavour to the dish. When in Guwahati, it is a must-have side dish to enjoy with your meals.
Conclusion
Guwahati is a confluence of divine flavours from all around. Therefore, you can easily spot several high-end, multi-cuisine restaurants offering a plethora of unique dishes and cuisines in Guwahati to try out. You can also order food online in Guwahati and enjoy the delicacies from the comfort of your home.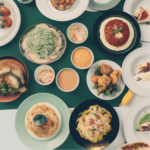 Satisfying your cravings, one bite at a time. Discover the best eats, trends, and uncover the hidden gems with us to make your online ordering or dining experience a memorable one.