The capital city of Rajasthan is spectacular. Walking through the bustling bazaars or taking a tuk-tuk ride will make you fall in love with the streets of Jaipur. Also known as Pink City, Jaipur has an interesting story behind its name. To welcome the Prince of Wales in 1876, Jaipur was painted pink during Sawai Ram Singh's administration. Since then, the city has been renowned not only for its colourful culture, local markets, historic forts, and royal palaces but also for its delectable cuisine. Every traveller dreams of exploring the Pink City. People from all over the world travel to Jaipur to experience its culinary revelry, vibrant culture and heritage beauty.
Not only this, Jaipur is also home to amazing bars and restaurants that combine Rajasthani hospitality with global cuisines. Read on to know more about the food culture of this beautiful city.
What makes the food culture of Jaipur unique?
Whether it's a high-end restaurant or a roadside dhaba, almost every restaurant in Jaipur serves the delectable flavours that stay in your heart. By trying food items like dal bati churma, missi roti, and sweets like ghevar, feeni, gajak, and chauguni ke laddu, you may experience the flavours of real Rajasthan. The best street food in Jaipur is available at fairs and other regional festivities. Given that the most of these dishes are typically vegetarian and are cooked in ghee and butter, Rajasthani cuisine is full of nutrients. Here is a list of some high rated items on Swiggy that our customers love!
10 Food Items You Must Try When in Jaipur
1. Rajasthani Thali
When thinking of trying this one, make sure you are really hungry and have not eaten anything in a long time. You can try the Rajasthani thali serving traditional Rajasthani dishes with loads of ghee (added for that authentic flavour). All of the typical Rajasthani dishes are available, including daal (lentil curry), bati (baked round bread topped with ghee), churma (dessert), ker & sangri (fried version of dried vegetables), gatte ki sabzi (curry), and others.
2. Laal Maans
Laal maans is a must-try Rajasthani dish, and is considered one of the must-try food in Jaipur for non-vegetarian foodies. Essentially, it is a slow-cooked mutton curry made with yoghurt and spices from Rajasthan. The red chilli powder used during cooking gives the gravy a lovely colour. This dish will be enticing for someone who loves spicy non-veg food.
3. Lassi
While in Jaipur, you must try the Jaipuri lassi. It is an Indian-style yoghurt-based beverage produced by pounding yoghurt, dressed up with extra cream and presented with love in earthen glasses or kulhads. It comes so handy that you can pick-up your kulhad full of lassi and carry it alongwith you while you are exploring the beauty of this city.
4. Rajasthani Thalis
Although cooked in many parts of the country, you cannot give Rajasthani kadhi a miss when you have decided to taste the famous food in Jaipur. This kadhi is famous for its distinct flavours. Crisp padokas are made from gram flour and these are dipped in a kadhi made with special Rajasthani spices.
5. Pyaaz Kachori
Pyaz Kachori, a must-try food in Jaipur, is among the most well-known delicacies. It is a deep-fried whole wheat pastry filled with fried onions and other spices (not particularly healthy, but who cares while having ridiculously good kachoris). It is also available at Rawat Mishtan Bhandar, Jaipur's most renowned kachori restaurant. Among the top things to do in Jaipur is to eat Pyaz Kachori at this famous restaurant. However, if you are not in the mood of visiting the restaurant, you can always order this dish and also some of the other must-try food items in Jaipur with Swiggy.
6. Gatte Ki Sabzi
One of the best foods to eat in Jaipur, Gatte ki sabzi is made with gram flour pieces, known as gattas, which are dipped into traditional yoghurt curry. Cooked in pure ghee, it retains the spiciness and all the flavours of a typical Rajasthani cuisine.
7. Mirchi Vadas
When you are looking for a snack option when trying out famous food in Jaipur, Mirchi vadas can be your go-to option. These mirchi vadas are a type of snack that taste better with chutney or a cup of tea. Because it is made of green chillies that have been filled with additional filling and then deep-fried in flour (besan), it has an extremely spicy flavour. It's very hot because of the green chilli. You can also order snacks online.
8. Daal Bati Churma
Regarded as the most loved dish of Rajasthan, three distinct dishes, Dal, Baati, and Churma, are served as a single meal under the name dal baati churma, and it is considered one of the best foods to eat in Jaipur. Baati is a delicious, fluffy, packed baked bread, churma is a type of dessert composed of wheat and sugar, and dal is like a light curry or soup.
9. Ghevar
One of the most loved sweets, ghevar is a must-try food in Jaipur. It is produced especially for the customary celebration of Teej. Without ghevar, the Teej festival is incomplete. The primary ingredients in ghevar are milk, ghee, sugar, and flour. Ghevar preparation is considered an art, and only skilled people can make this sweet perfectly.
10. Ker Sanghvi
A typical rajasthani vegetable, it is made as a spicy pickle and served with bajra roti. This utterly tantalizing dish is considered one of the most important elements that complete a Rajasthani platter.
End your gastornomic journey at a rabari bhandaar or a kulfi bhandaar to get a taste of the most heavenly dessert of Rajasthan. You can also choose to enjoy the ferris wheel ride and shop for the artisanal products by ordering all these food items from Swiggy in Jaipur. Swiggy can quickly deliver these food items from your favourite / top-rated restaurants to your location with the utmost convenience. Bon Appetite!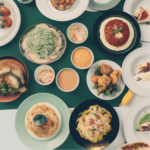 Satisfying your cravings, one bite at a time. Discover the best eats, trends, and uncover the hidden gems with us to make your online ordering or dining experience a memorable one.